Nature of the industry
Human beings cannot live without food. For centuries, the agricultural industry has been thriving due to global rise in population that continues to grow exponentially and demand for more foodstuffs.
Traditionally, hand and manual tools were used but in modern time, agriculture is highly mechanized and computerized. Common equipments include tractors, combine harvesters, planters, ploughs (mould board ploughs and disc cutters), harvesting machinery, storage equipments, pest and herb control, hay making and processing equipment.
Use of radial machine in production workshops
The manufacture of tractor relies heavily on machine tools. These are used to bore holes on the engine block, gears and shafts. The devices have a large table and heavy metal base suitable for heavy duty work. The all geared type is suitable for making large precision holes on the engine block, wheel hub, gear box and other transmission and structural parts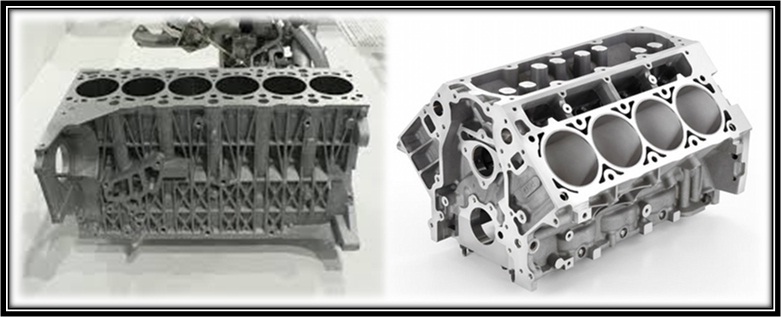 Tractor engine (Inline and V type): numerous holes and attachments done with radial drill
Other specialized tractors such as the combine harvesters also use these devices to make holes oriented at different directions, angles and position.
Tractors essentially pull a wide variety of farm implements. Implements such as ploughs, harvesters, fertilizers, irrigation and planting equipments are manufactured through casting, machining and assembly of parts. During the machining process, heavy duty radial drill are used to make large and deep openings oriented at different angles. This machine is a must have for small and large scale production of these devices.
Farm produce must be processed to add value using a wide range of equipments. Farm processing industry has numerous equipments and this makes them an indispensable and imperative machine tools.
Special design features
The protruding arm allows the movement of the drill head and spindle horizontally. In addition, the radial arm moves 3600 about the column. Once the work piece is clamped, very many holes can be drilled at an instance.
The parts are through hardened fine grade steel that has extra strength and resist wear. The drill is able to withstand heavy forces during boring. The machine have double row roller and thrust bearing which withstand high forces and torque.
Trends in the industry
The global agricultural sector has been experiencing a yearly growth of 8 %. In 2010, it accounted for $ 56 billion and US$ 81 billion in 2015. The industry is mostly serviced by 50Hp tractors and combine harvesters.
The main drivers are increasing population, food demand and technological advancement.
High power tractor (>100Hp) are used in Europe, USA and Canada. In the EU the tractor market accounted for $18 million in 2010 and is expected to reach $ 23 billion in 2015. South America and Asia countries use medium (40-100 Hp) while Africa uses low horse power types.
The major drivers in pacific region are Asia and India. On average, India sells 150000 units of tractors (15 -75Hp) each year.
Repair and maintenance
The devices are also widely used in repair and maintenance of tractors, farm implements and in making processing equipment.