Milling Machines are used for machining of solid particles. They are been used in the industries for cutting metal, wood, and other solid materials. The machine can be positioned in the direction to cut and shape out the workpiece. There are different types of milling machine used in different industries. One of the most commonly used milling machines is the vertical turret milling machine that has its own characteristics
Milling machines are been classified by the orientations of their spindles that are either positioned horizontally or vertically.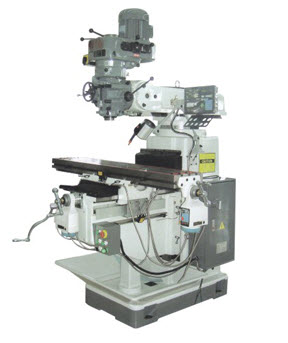 Following are the features of the vertical turret milling machine used in industries –
In vertical turret milling machine, the cutting edge is held vertically above the workpiece
The table is been moved around the cutting blade in all directions and has the ability to cut various types of objects.
In order to cut the workpiece, the table is been moved perpendicular as well as parallel direction and the stationary spindle plays it role
Vertical Turret Milling Machine consists of the quill that helps to raise as well as lower down the milling cutter in the vertical direction for cutting the required material
The machine can be repositioned anytime in order to improve the functionality
It comprises of several options for aligning the spindle in number of positions
The machine is known for its low maintenance and high performance
It is comprised of computer numerical control technology also known as CNC.  With this latest technology, the user has to input simple as well as complex instructions in order to operate different parts of the machine.
The technology helps to increase the productivity of the user as well as enables to produce a large number of accurate products
Turret milling machine is considered as versatile as it can create a wide selection of shapes
Bhavya Machine Tools deals with different types of machines used in industries that include food processing machines, woodworking machines, welding machines, and other special purpose machines. Our other products include different types of drilling machines, all geared lathe machine, bandsaw machine, different types of milling machines and many more products. For more information about the machines contact us today and know more about the different special purpose machines used in industries.