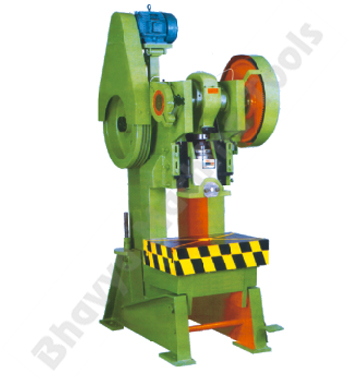 The power press is a powerful sheet metal machine. It is mainly used for cutting, bending, pressing, forming and stamping sheet metal into different shapes and sizes. This highly precise and versatile machine deforms and cuts metal by pressing it between two heavy pressure plates. The various types are classified as mechanical, electrical, pneumatic and hydraulic; including the pillar type and C type unit. They are readily available in different specifications and have numerous features in order to fulfill the diverse requirements of several industrial segments. The latest models incorporate advanced technology that help to easily carry out complex sheet metal tasks at comparatively lower costs. They are corrosion resistant, very silent and vibration free; and can be continuously operated at a relatively faster speed to deliver higher output. These are commonly used in a wide range of industrial segments such as automobile, plastic, metal, rubber, wood, textile, etc. The other applications include sheet metal machining and engineering tasks, in light as well as heavy industries.
Power Press Manufacturers in India
The industrial sector in India has grown tremendously during the past few years. This is mainly due to the rapid industrialization and the ever growing demand for various types of tools in the local as well as overseas markets. As a result, a wide range of equipments including a broad variety of this tool, are now manufactured by many companies in the country. It manufacturers in India not only provide a particular type of machine, but also contribute in the growth of other related industries, and the overall economy of the nation. They even assist in providing employment to a large of number of skilled and unskilled people. Besides, these manufacturing organizations also create employment opportunities for several people in the other associated business segments.
Challenges and Opportunities
These days the manufacturers in India are competing with each other in order to increase their market share and earn more profits. Hence they focus on providing a broad range of top grade device. Subsequently a variety of power presses with standard specifications are now made in India. Besides this even customized models are produced as required. This in turn has created several challenges and opportunities for the manufacturers. Hence they need to design superior quality unit and build the latest infrastructure in order to operate the modern unit in a suitable environment. Further, the manufacturers have to follow the appropriate operating procedures and also comply with the industry standards in order to deliver high quality products. They also have to train their staff with the necessary skills to properly use and adequately maintain the latest equipment. Consequently, the manufacturers also get the opportunity to supply their equipment worldwide and thereby enhance their company's image in the local, as well as global markets. Hence the rising challenges have created several opportunities for the power press manufacturers in India.