SPM machines are equipments designed to perform tasks that ordinary machining tools cannot handle due to the size, weight and unique features of the work piece. The ship building industry is characterized by larger and heavier size engines requiring heavy duty machine tools. Production of flanged shafts and stepped shafts for engines is common in the ship making processes. Various heavy metal forming processes such as large sheet metal cutting, planning and finishing, gears making and production of customized designs are processes involved in manufacturing vessels. Special equipments useful in this process include;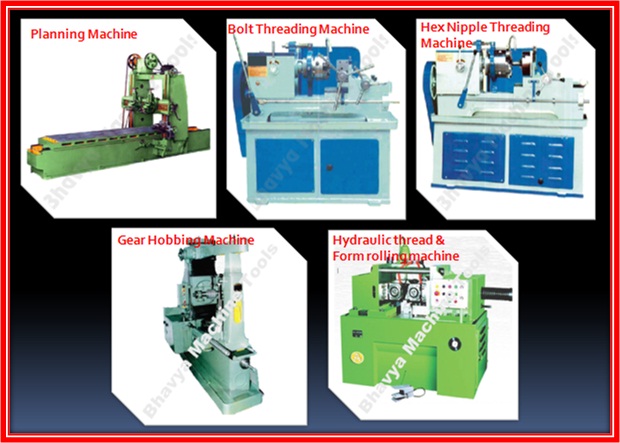 The Planning Machine: Operation and Utilization
Planning Machine is used in machining of large sized flat surfaces as well as "V" shaped guide ways. It is also built to machine T –slots, vertical, horizontal and inclined surfaces. In construction, the bed is made of cast iron with high strength properties. It also has sufficient box section with adequate double walled ribs to the floor line. Special features include the rigid construction, ample bearing surface, automatic lubrication systems, table of box Cross section and scrapped V ways for maximum load bearing, quick return mechanisms and high precision cut gears for maximum efficiency.
Bolt Threading Machine
This machine is designed to produce very accurate threads in pipes and rod applications. Bolt Threading Machine used in making threads in pipes on materials such as stainless steel High tensile steel and mild steels. Sturdy construction of the machine ensures efficiency and accuracy in the machining process, and durability of the equipment.
Hex Nipple Threading Machine
The hexagonal nipple is a pipe connector with both ends being threaded with the male threads. The nipples are used to allow connections to other systems such as straight end pipes, water heaters and other plumbing's. They are manufactured using special nipple threading equipment. The equipment is able to deliver precision and fine threading that ensure leak free and reliable connections and can thread various materials such as stainless steel, brass and carbon steel.
Gear Hobbing Machine
This equipment is designed for manufacturing of gears. In the hobbing process, gear teeth are cut in the work piece through a series of cuts with the cutting tool called a hob. Using this special equipment, the process becomes efficient and affordable while still maintaining the required accuracy. This has made the gear hobbing machine the most widely used in making of spur and helical gears with reduced time to completion.
Hydraulic thread and Form rolling machine
Hydraulic Thread & Form Rolling is used in production of various types of threads through an efficient cold forming system. The equipment is user friendly with very high efficiency in operation. To enhance efficiency, the machine is equipped with low pressure hydraulic system thus reduced power consumption.
Other Industrial Applications of the Special Purpose Machines;
Other industrial applications of special machine tools include petroleum exploration, gear making, aerospace engineering and turbines in hydropower generation. The equipments have high demand in the ship manufacturing process, as they are able to machine unique and customized parts. These machines are available through certified manufacturers capable of delivering high quality and long lasting equipments.