Machineries, Industry and Environment
Industries that depend on machineries remain hindrance to environment in terms of the noise emitted from the industrial premises and the wastes removed. These factors certainly pollute the atmosphere in some way or other.
Common Hindrance Occurred by Machining Industries
Workers who spend majority time in machining operations are prone to noise pollution and air pollution hazards. Some of the commonly identity health issues are working with noisy equipments are subjected to health hazards like hearing problem, allergy, etc.
Noise Emission in Metal Shaping Equipments
Noise emission stays the prominent factor that affects the environment. Workshop devices like lathe, milling, shearing, and many equipments are employed to handle hard and moderate work materials. Hence, machining activities creates noisy atmosphere.
Press Brake in Conventional Model
Press brakes had been in existence since several years. It was preferred to bend thin and moderate metal sheets. With the influence of computerized designing software several changes have been made in profile making devices.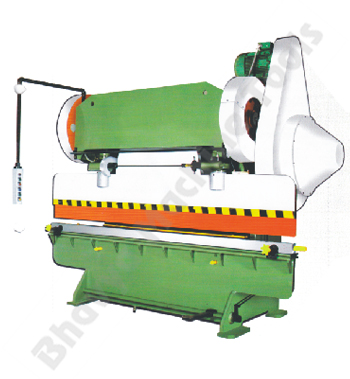 Environmental Friendly Factors in New Type of Press Brakes
New models have been introduced by manufacturers as they receive more customization requests from consumers. In recent days, machine supplier focus on environment friendly designs and press brake is one among them.
Eco-Friendly Features in Hydraulic Press Brake
Hydraulic model remains the most preferred of all. It is economic in energy consumption and provides noise and vibration less machining operations.
How Mechanical Press Brakes are designed over Environment Safety?
Mechanical profile equipment had been a source of disturbance in earlier days. However, with the help of designing technology, engineers are able to provide latest model which requires very less maintenance. Mechanical brakes made of high quality materials support for environment safety as wastage is reduced.
Managing Energy Consumption Specifications in Press
A machine that consumes more fuel or energy source is a threat to environment. However, designers focus to add innovative features to reduce energy consumption. We offers metal Profile making that consumes less energy.
Noiseless and vibration Free Equipment help to prevent noise pollution
We offer Hydraulic and mechanical press tools. It perform noiseless and vibration free operations. Hydraulic variety remains the most preferred than mechanical for its capacity to use very less energy. Hence, considering the fuel saving aspect hydraulic machine stays the first choice for moderate investment and production.
Machine quality and Environment Safety
Our profile workshop equipments are made of high quality materials that are known for excellent tensile strength. Consumers can expect higher productivity for long term. Since, it require less maintenance, industries can experience safe machining atmosphere.
Conclusion
Industries that depend on machining activities employ lot of tools however; noise and waste emission stay environment threatening factors. The inception of designs with favorable mechanism without noise or vibration and less maintenance aspects, have received excellent reception form worldwide industries. We are one among the leading designers and supplier that provides atmosphere friendly workshop tools.