Bending machine – Application and Benefits
A Bending machine is essentially a forming machine tool with the main purpose being to assemble a bend on a workpiece. It makes use of a linear and rotating move to manufacture a bend. This type of machine is durable, fast, cost-effective and is very useful for bending reinforcements bars. It is useful for many forms of bars like round bars, busbar bars. This is also known as a round bending machine. It has a high production capacity and is an essential piece of equipment for any steelyard.
These machines are easy to use and do not require any special skills to use either. This article goes on to describe the various applications of such a machine and the benefits of using it besides high production rate.
Benefits of a bending machine
There are many benefits of using this type of machine:
It is a computer-controlled equipment that is highly efficient.
This type of machine has high precision.
There are additional benefits for using this for busbar processing.
This machine is capable of executing several actions. For example, it is useful as a busbar bending machine, busbar cutting machine, busbar punching machine.
It is useful for punching round, oblong, and other types of holes.
This type of machine is also useful for embossing, shearing, slotting, round cornering.
It makes use of high precision ball screws and linear guides; This ensures that the machine is highly efficient and provides high precision.
One of the main advantages of these machines is the fact that even when used at maximum capacity they have high precision and allows for rapid production as well.
These machines are very accurate and easy to use.
There is a high level of automation hence it does not require very high skill level to operate it.
It has the capability of providing the perfect cut or bend and does not require any maintenance.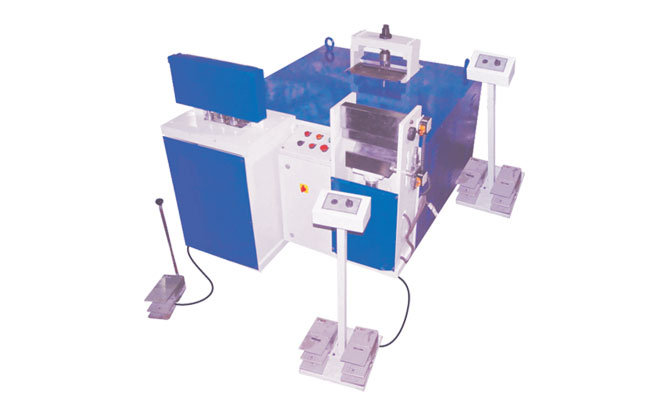 Applications of a Bending machine
There was a time when automotive companies and suppliers had to make use of a manual process for bending brake lines and fuel lines. There were many disadvantages of a manual machine and it also reburied a high skill operator level.
The round bending machine has many applications in several industries as listed here:
Agriculture industry: It is useful for Vineyard accessory, Agricultural Spring, Tractor part
Furniture industry: It is useful for decoration lamps, bottle holder, chair frame
Automotive industry: It has many applications in this industry for the production muffler hargers with end forming units, single head or head and collar, headrest frames, bonnet rods, tank floats, child seat hooks, etc.
Railway industry: Applications in the railway industry include railway clips, etc.
Construction Industry: There a large number of applications in the construction industry like scaffolding safety hooks, ceiling hook, frameworks concrete.
Appliances industry: It is useful for several appliances like barbecue accessories, refrigerator accessory, dishwasher accessory, oven grill, iron holder for axis, cooling coil.
Display material: It is useful to make material like postcard support and other display support material.
Fastening Industry: It is useful for many types of pins and hooks.
Gardening industry: Applications in the gardening industry include gas lever lawn mowers, mower lever, wire planter.
This machine also has several other applications as listed here:
Hydraulic connections
Fuel pipes for diesel motors
Hydraulic system
Shop furnishings
Motorbike and scooter accessories
Gym equipment
Exhausts
Supermarket and airport trolleys
Handles
Trim for train and bus windows
Office furnishings
Hospital furnishings
Boat and swimming pool furnishings
Road signs and posters
Bathroom furnishings and taps and faucets
Prams and pushchairs