A laser marking machine is a highly efficient piece of machinery and it makes use of a laser beam to obtain permanent marks on the surface of different metals. The term "LASER" stands for Light Amplification by Stimulated Emission of Radiation and is a light wave consisting of a single unadulterated wavelength. The machine consists of an oscillator in which the laser light is amplified due to its reciprocating motion between the reflecting mirrors. This amplified laser energy causes a chemical & a physical reaction with the material, leaving behind a mark or trace on the surface.
Components of Fiber Laser Marking Machine
A laser marking machine mainly consists of following components- Fiber laser source, Laser scanner, F-theta lens, Control board & marking software, computer, lifting pillar, 2D working table, and power supply.
Need for Laser Marking
The laser technology has come a long way since its invention. Now, the laser cutting, marking, and engraving machines have become the need of the hour for the industries in order to have quick and high production rate resulting in higher efficiency. Forget the big industries, the laser cutting machine can also be seen in the smaller shops these days. It accommodates a large number of metals and carries the operation at a much faster rate. The materials that can be engraved or marked are plastics, metals, coated metals, stone, glass, and natural materials.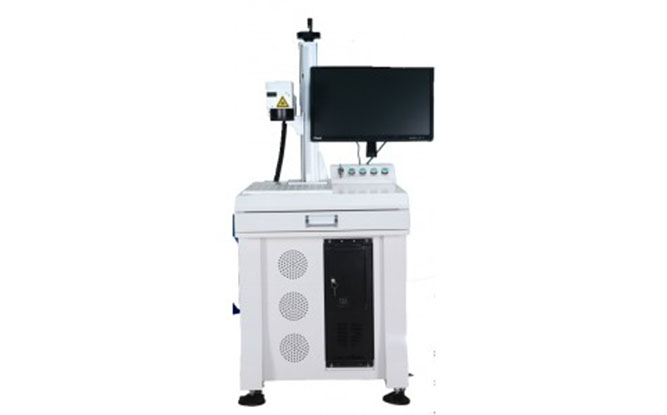 Laser Marking Machine Industrial Applications
The laser marking machine finds numerous applications in industries due to its excellent workability. It is used for the marking of flexographic plates and cylinders. For this operation, carbon dioxide or co2 laser is used to evaporate the rubber plates and sleeve materials in order to produce a surface that is ready to print. This process makes sure that there is no integral ablation mask produced as a high power co2 laser burns away the unwanted material.
Benefits of Fiber Laser Machine
The fiber laser machine is one of the most widely used machines and has the most accepted technology for the operation of laser marking as it offers versatility and requires low maintenance. It also has a very low requirement of consumables and unlike the carbon dioxide laser machine, the fiber laser marking machine makes use of optical fiber doped with the rare element as the laser source. It is used to make barcodes, serial numbers, QR codes, personal details, graphics, etc. on the surfaces of materials like auto components, steel labels, etc. Additionally, this machine provides the best industrial solution for product identification and traceability.
Fiber Laser Cutting Machine
Fiber laser cutting machine is another machine that enjoys a lot of applications in a wide array of industries. The smaller beam diameter of the machine (than what is observed with Co2) makes it potent for intrinsic applications. It is mainly employed in the medical field, jewelry, automotive, electronics, textile industry, etc.
The Bottom-Line: Bhavya machine tools offer fibre laser marking machine for applications that require precise and detailed work. These laser marking machines are capable of producing accurate works and have high production rates. The fiber laser marking or cutting machine make use of laser beam to perform their respective operations. These machines serve a wide array of industries such as automotive, medical, textile, jewelry, etc.