In this article, we will explore the Press Brake Machine Market in United Arab Emirates (UAE) and analyze the key market players, their key strategies, and future prospects. We will also explore the growth trends of the metal fabrication equipment industry in the UAE and its impact on the UAE market.
Hydraulic Press Brake Machines are more Precise than Mechanical Press Brake Controls
A hydraulic press brake is a type of machine that uses hydraulic fluids to shape sheet metal. This type of equipment is able to form a wide range of sizes and tonnage. It is a great option for heavy gauge applications, such as bending sheet metal.
Compared to the mechanical press brake, a hydraulic brake has several advantages. These include greater accuracy, easier to operate, and reduced maintenance. The system also offers a lower energy consumption. However, there are some drawbacks to this type of equipment.
The primary drawback of a mechanical press brake is that it cannot be stopped mid-cycle. This could lead to an inherent problem between the brake and clutch timing. If the ram doesn't retract in time, the machine can lock up.
A hydraulic press brake can be set to achieve a number of different bend angles, including a multi-elbow bending scenario. It can also be fine-tuned for a given stroke.
Modern hydraulic presses have twelve or more programmable axes of movement. This allows the operator to have a more accurate grasp of the ram's position, speed, and torque.
These features can help improve the efficiency of the press brake. They can also be designed to halt the main motor during idle periods, which can save both time and money.
Although a press brake can be used in a variety of industrial applications, it is most commonly used in sheet metal processing. This is because the metal is usually thinner, which requires a smaller tonnage.
The most important thing to consider when purchasing a press brake is how it will be used. For example, if the press is being used for forming stainless steel, a hydraulic brake is the best choice. Alternatively, a mechanical press is ideal for projects requiring high precision.
A hydraulic press brake is one of the most popular pieces of equipment in the metal fabrication industry. Its low cost and easy to use features make it a popular choice among professionals.
The market for press brake machines is expected to expand in several countries around the world. The transportation, automotive, and electronics sectors are expected to drive growth in the near future.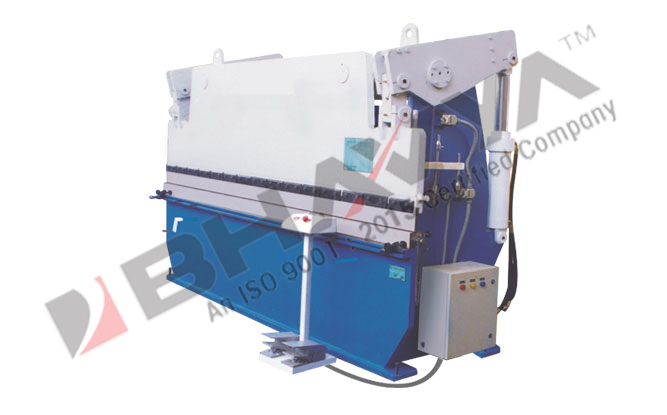 Semi-automatic Press Brake Machines are Projected to Expand at a Volume CAGR of 5.5% Through 2032
Press brake machines are used for bending metal sheets. The capacity of a press brake machine depends on the thickness and length of the sheet metal. For accurate parts, precise control over the angle of bend is essential. These machines can be used in various industries, such as transportation, construction, and automotive manufacturing.
The market for press brake machines is fragmented. Among the different regions, North America dominates the market. This is due to the high demand from the aerospace, automotive, and transportation sectors. These sectors are expected to maintain their dominance during the forecast period. However, Asia Pacific is expected to witness considerable growth over the next few years. The region is home to a high volume of air, rail, and maritime traffic. It is also home to supportive government policies for manufacturing activities. Moreover, increased investments in construction, as well as commercial and residential infrastructure projects, are projected to drive the press brakes market.
The demand for press brake machines is projected to increase at a CAGR of 5.3% in the second half of the forecast period. The growth is largely attributed to increasing production of automobiles and aerospace. Furthermore, rapid urbanization and increasing investments in the transportation industry are driving the demand for these machines.
The market for press brakes in APAC is driven by China. The country accounts for nearly 32% of the East Asian market share. The country is expected to experience a high CAGR in terms of volume and value. In addition, the press brakes market in Asia is expected to witness significant growth due to increasing investments in the construction sector.
Several key manufacturers in the press brakes market are investing heavily in expansion. These manufacturers are also focusing on acquiring strategic partnerships with technology-based companies to meet the changing needs of the market. These manufacturers are adopting technologies that are designed to reduce carbon footprints. These technologies are also used to eliminate scrap and part corrections.
Digitally controlled automated press brake machines are also growing in popularity. These technologies have a lower cost of operation and are also easier to install. These systems allow faster bending speeds, shorter cycle times, and more flexibility.
Challenges Faced by Operators of Press Brake Machines
Press brakes are an important tool in the manufacturing process, but they are not without their risks. In fact, they are one of the most common machines to cause workplace injuries. As such, it is crucial that operators know how to handle them safely.
There are a number of tools that can be used to safeguard the point of operation, including awareness barriers, light curtains, and two-hand controls. These are designed to reduce the risk of injury and improve overall equipment performance.
A presence-sensing device can be used to detect an obstruction and prevent the press brake from cycling. In addition, it can help reduce the time it takes to stop a dangerous movement. It is recommended that such a device be placed near the pinch point. This will provide a measure of protection, especially if the ram can be adjusted at both ends.
A light curtain is another specialized piece of equipment. These devices are typically installed in the yellow bars on a press brake. These devices use infrared light beams to create a sealed work area. The system is then wired into a safety monitoring relay. When activated, the light curtain stops the machine and the operator.
A laser AOPD (Automatic Operation Positioning Device) is a recent addition to the press brake safety field. It is best suited to applications in which the light curtain's effectiveness has been diminished, such as in forming larger pieces with tall side legs. It is also a good idea to have a secondary light curtain horizontally mounted to ensure additional protection.
Other safeguarding tools include barrier guards and pressure-sensitive mats. These devices are designed to reduce the risk of hand pinching and other potential hazard. They should meet the ANSI/CSA guard opening scale.
Although these devices are the simplest to install, it's a good idea to test them to ensure that they function correctly. It's also a good idea to put up signs to warn people about the dangers of working around a press brake. If you have questions about these or other press brake safety issues, you can contact a Loss Control Consultant. They can answer your questions and help you ensure the safety of your employees and your plant.
Trends Impacting the UAE Metal Fabrication Equipment Market
The UAE Metal Fabrication Equipment Market has undergone various developments and is expected to grow at 3.80% CAGR during the forecast period. This report focuses on the latest trends and key factors driving growth. It provides a comprehensive analysis of the competition landscape, industry dynamics, and future opportunities.
The market is divided into various segments by applications and equipment. The cutting segment is expected to exhibit significant growth during the forecast period. The automotive and aerospace & defense industries are anticipated to drive the demand for machining products. In addition, the increasing number of small and medium scale industries in the region is also projected to boost the machining segment.
The global Metal Fabrication Equipment Market is highly competitive. Several companies have adopted advanced solutions to enhance their production units' efficiency. This helps them gain a competitive advantage in the market. These manufacturers are improving their supply chains and reskilling their workforce to meet the rising demands of the market.
The global crisis has caused numerous unprecedented challenges for the market. It is therefore essential to prepare for such emergencies. For example, the governments of the affected countries implemented mobility restrictions in order to prevent the virus from spreading. This is a major factor affecting the UAE Metal Fabrication Equipment Market.
In addition, the government's focus on diversifying the economy has led to rapid expansion of manufacturing industries. This has increased the demand for Metal Fabrication Equipment. This will continue to be the main factor propelling the market during the forecast period.
However, the Covid-19 pandemic has severely affected the UAE Metal Fabrication Equipment Market. This has disrupted the supply chain and affected the economic activity in the country. This led to shutting down of several production units. The shortage of raw materials has also affected the demand for metal fabrication equipment.