A Pipe Cutting Machine is a piece of plumbing equipment used to make a clean cut in pipes. It is more efficient than a traditional hacksaw, and can be faster and cleaner. The utility of a Pipe Cutting Machine depends on the material of the pipe being cut. For example, a steel pipe requires a more precise cut than a copper pipe does.
Features of Pipe Cutting Machine
Pipe Cutting Machine is a CNC controlled machine that cuts pipes and tubes with precision and speed. The machine uses latest technology and is equipped with top quality components. It features an easy-to-use user interface and high-precision linear guides. Users can easily learn how to use the machine after a short training period. It can also process various types of pipe joints.
Its innovative design and unique features make it a valuable addition to any pipe cutting shop. This machine allows pipefitters to cut with high precision and accuracy, while minimizing the risk of injuries.
This pipe cutting machine is an all-in-one pipe cutting machine. It is versatile, and allows easy portability. Designed for both on-site and workshop use, this machine allows for bevel cuts, chamfer cuts, and straight cuts. This machine features a safe cutting process that minimizes the risk of explosion. It also eliminates the heat affected zone.
Benefits of Pipe Cutting Machine
This machine can handle different types of material, including carbon steel and stainless steel. It can also be used for bevelling. In this way, the user can cut any profile of a pipe in just a few seconds. The machine is capable of bevelling pipes of any thickness and diameters.
The pipe cutting machine is a versatile machine that can cut pipe in different diameters.
This pipe cutting machine features technology, which provides continuous, variable beams across the material thickness. This ensures high productivity and easy removal of the finished parts. Its high-speed piercing capability enables fast and accurate pipe cutting. Its speed piercing feature is capable of increasing cutting efficiency by 70 percent. Its safety enclosed body and fume extraction system help reduce sparks and fumes.
Applications of Pipe Cutting Machine
This Pipe Cutting Machine is the perfect choice for cutting pipe. It can also be used to cut pipe frames and plumbing. It cuts with perfect accuracy. This machine is a valuable asset that will save you hours of time and frustration. Its energy-saving features make it ideal for sheet metal processing, agricultural machinery, aircraft, and automobile industries.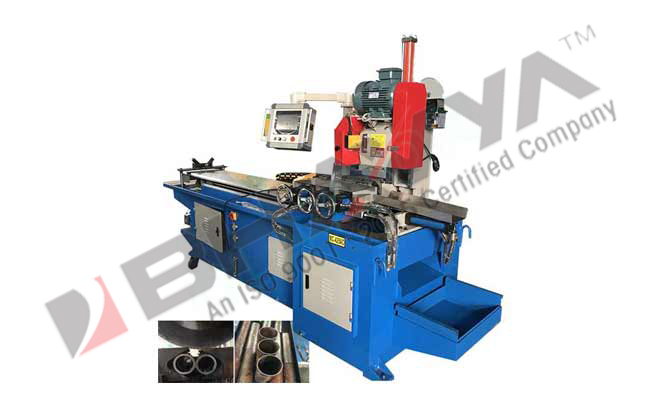 It is a powerful, versatile pipe cutting machine. These machines offer a complete machining system to cut and reshape pipes. They also have optional tooling for a variety of tasks.
This machine is ideal for a variety of pipe sizes, tubes, and vessels. It is perfect for cutting, bevelling, facing, and counterboring large diameter pipes.
The Bottom Line
The pipe cutting machine can cut most materials. Unlike a traditional machine, it generates lee heat, which means that even the most sensitive materials remain intact. Another advantage is that it can cut through materials with high precision. It can also carve shapes and cavities that other cutting tools cannot reach. It is also suitable for a range of hygiene-relevant processes. Furthermore, it does not produce hazardous waste, making it a great choice for pipe cutting applications. But before selecting, you also need to ensure high purity and sizing for productive waterjet cutting operations. Also choose a machine that offers superior cutting speed and power.