Workshop is the core of learning about different Materials, equipment, tools and manufacturing practices that are observed in different manufacturing functions and operations.  Workshop is also of prime importance when you want to gather about the practical knowledge.
There are different types of workshop power tools dealing with several sectors of industry like carpentry, bench work and fitting shop, casting and foundry, sheet metal, machine shop electric welding and many others.
Understanding the Significance of Power Tools
Here is a lot of power equipment that are intensively in use for engineering workshop. Understanding its significance will give the user a broader perspective on its usages.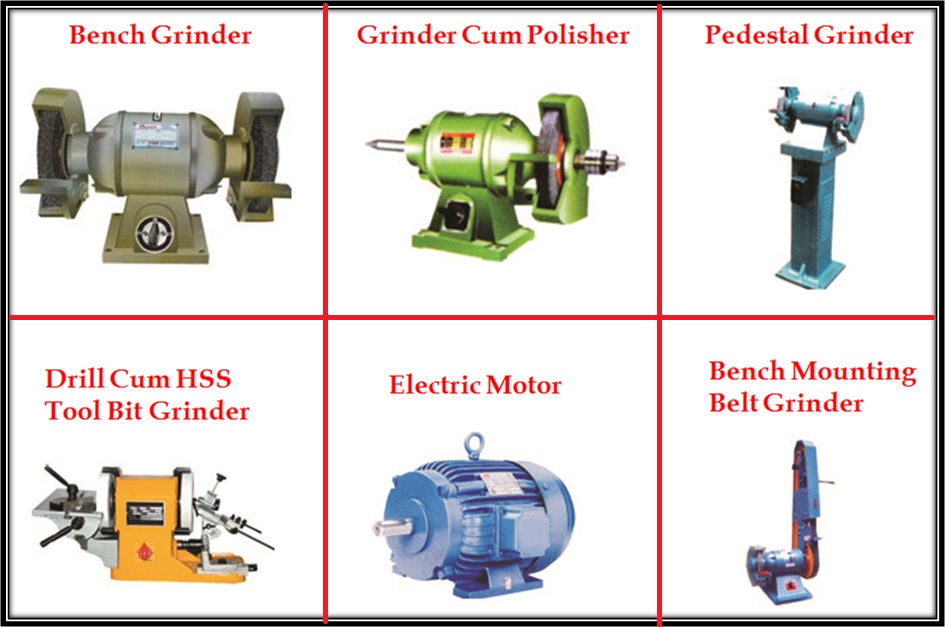 Bench Grinder: one such appliance that is used for welders and fitters. The significance of bench grinder machine is that, it makes the job of fitting a lot easier and faster than usual.
Grinder cum polisher: It is the device that is particularly helpful in engineering workshops and can also be used for occasional and buffing and grinding jobs.
Pedestal Grinder: The pedestal grinder is used in various crushing, grinding and mining jobs. This is one of the advanced solutions where size reduction is required.
Drill cum HSS Tool Bit Grinder: Bit crusher is necessary so that the holes that are made can be bored with ease and quickly. It also provides with high drilling speed for various industry operations.
Electric Motor: Now largely used for industry for various reasons, initial cost being low and long life of equipment being two of the reasons. Also this machine requires low maintenance allowing lower cost of production.
Bench Mounting Belt Grinder: An electrical device that sued to smooth the surface of materials like wood, plastic and metal. It is designed to remove unwanted residue that gets accumulated in the surface with an ease of using it.
Flexible Shaft Grinder: Widely used for fabrication workshops, heavy industries and foundries. Used mainly where the job is quite lengthy or heavy and is not possible to move it up to the grinding instrument.
Magnetic Drill Stand: As drills are crucial in building of works in metal, wood and concrete, the magnetic ones are portable in structure and specialize on steel for structural drilling.
Cutt off Machine: These cut off gears are used in the place of manual crushers for accurate cutting with free mobility in both outdoor and indoor. It also ensures that the work carried is accurate.
Hydraulic Test Pump: It is usually compact and portable in structure, which is driven by air.
Hand Operated Spur Gear Chain Pulley Lock: It is mainly used for long lasting lubrication with minimal maintenance. It makes lifting heavy weights an easy process.
Electric Operated Spur Gear Chain Pulley Lock: In the electrically operated locks there is no need for manual labor and most work is done faster.
Monorail Gear Trolley: this is mainly designed for heavy duty application with upper and lower switch that manages the limit, preventing over travelling and safety.
Wire Rope Hoist: The industries that are involved in mass production uses this mechanism for modular construction and to save space.
These machines are of uniform quality and unmatched value so that it can provide with the accurate solutions to different industrial operations.