An NC Press Brake machine is a tool that is used in the bending of thin plates. It consists of a bracket, a working table, and a clamping plate. The working table and clamping plate are connected by a hinge. The seat shell and coil are placed in a recess at the base. A cover plate covers the coil and prevents it from falling out. NC Press Brake machines have different designs, depending on their intended use.
Bhavya Machine Tools NC Hydraulic Press Brakes Features
Bhavya Machine Tools hydraulic presses are high-performance machines that are suited for sheet metal bending jobs. These hydraulic presses have high power and efficiency. They can perform precise sheet metal bending jobs. The NC press brake machine is designed with advanced technology and meets production requirements. 
The deflection of an NC hydraulic press brake depends on the material to be bent. Heavy steel requires higher deflection than aluminium, while aluminum requires less work. It also depends on the operating conditions and the material. Knowing the deflection will help you expedite the purchasing process. Bhavya Machine Tools provides an overview of the characteristics of various press brakes. You can choose from the available press brakes according to your requirements.
Electric models are the most common types of hydraulic press brakes. These machines feature an electric or mechanical drive. Both of these systems are suitable for various applications. The advantages of these hydraulic presses include higher speeds, higher accuracy, and energy efficiency. You can even choose an NC System. It offers a strong ROI and versatility.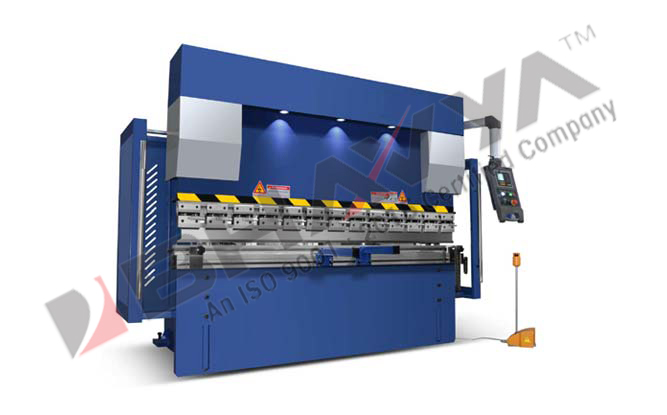 Functions of NC Hydraulic Press Brakes
Bhavya Machine Tools NC hydraulic press brakes are the ideal solution for any CNC-controlled press brake machine. Its precision allows it to perform a variety of tasks with ease. The NC hydraulic press brakes are designed for use in the automotive and sheet metal industries, and many other different industries. Hydraulic presses are available with multi-axis back gauges for the precise positioning of metal. The multi-axis back gauge features a spring return feature for additional safety.
The speed of CNC presses varies with fast-down and slow-down functions. NC press brakes are easy to use and require less training and experience than CNC ones. And, the NC press brake does not lack precision and anti-deflection load capacity. The CNC versions are more sophisticated and cost more. If you have a limited budget, you can buy an NC press brake machine.
Benefits of Bhavya Machine Tools NC Hydraulic Press Brakes
When it comes to choosing the right press brake machine, Bhavya Machine Tools is your best bet. We offer hydraulic press brakes for both CNC and NC press brake machines. And you can choose from a variety of brands and models to suit your budget. Bhavya Machine Tools helps you get the right press brake machine without compromising on quality.
Whether you're looking for a CNC press brake machine or a simple hydraulic press brake, you can find it with ease in the Bhavya Machine Tools catalogue. If you know your machine's serial number and model, calling a sales representative will be a breeze. Then, you can begin using it immediately. A machine like this is an investment that will pay for itself over time. The press brake's design allows for easy operation and adjustability. Hence, the brake's working efficiency is increased. The machine mechanism has a simple structure and is reliable, easy to maintain, and efficient. In addition to a high level of precision, it can offer superior productivity and efficiency. 
The Bottom Line
This press brake is designed with high-grade technology and supreme dexterity. It can perform nearly any metalworking task. For the best performance, you should install a quality machine. It is the right choice for a wide variety of production environments. This machine is suited for complex product bending applications. The NC press brake is a high-performance model. The mechanical components are well-welded to withstand high stress and vibration. The system is easy to maintain, incredibly reliable and provides maximum precision and ease of operation.