A Notching Machine is a versatile tool that helps in cutting and shaping different types of materials. The advantages of this machine are many. Here are a few of the features to consider. The following article provides some of the most important information on the different types of notches available and will also help you to choose the right one. You will also find out about the price, benefits, and models of these machines. Choosing the right one is essential to ensure you get a smooth cut and avoid any errors.
Features of Notching Machine
Notching is a cutting process, which has many advantages. In addition to cutting metal, it can also create complex shapes. With a punch and die tool set, the manufacturing company can achieve unique and complex shapes. Customized tool and die sets can also be made to match specific shapes. In addition, this cutting process is a safer option than manual notching. This article will cover some of the features of notching machines and their advantages.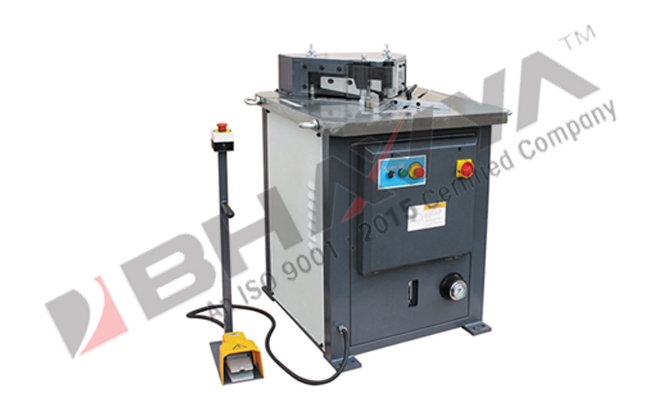 Notching machine is mostly used to cut the corners of disks and square metal boxes. Its novel style is an added benefit for users, and it has no cutting quality issues. Hydraulic Notching Machine uses hydraulic transmission, and it is suitable for various hardware processing industries. This type of machine is the most common notching machine on the market. There are many other types of notching machines available.
Benefits of Notching Machine
Notching is an important process for fabricators in a wide variety of applications. It provides the ability to create complex shapes. Different shapes of notches require different types of equipment and processing methods. The choice of equipment and process will depend on the raw material, desired shape, and manufacturing process. Listed below are some benefits of notching machines. You can select a notching machine for your specific needs to maximize efficiency.
The notching process is commonly performed before assembling light-gauge tubes. The process may involve notching one or both tubes before joining. Many bicycle frame manufacturers use tube notching as part of their process. For smaller pieces, manual handling may be necessary. The speed of this process is usually limited by manual handling when loading the workpiece into the press. Moreover, smaller pieces are still hand-fed. Notching machines have many benefits.
Notching Machine Costs
A notching machine is an inexpensive way to shear and cut various types of metal products. Notching machines are common in manufacturing industries and construction machinery, where they are an efficient and low-cost way to notch any type of metal. Notching is a pre-processing step that requires the correct angle and shape in a given piece of metal. The speed at which a notching machine operates will depend on the power of the machine.
The cost of a notching machine depends on the type it is. There are two types of notching machines: hydraulic and pneumatic. The former is the more affordable option, and features a pneumatic or hydraulic transmission. Hydraulic notching machines are more suitable for a wide variety of industries. They are the most common types on the market. You can choose the one that fits your specific needs and budget best. You can also choose one that has the capacity to handle the thickness and material you need to cut.
The Bottom Line
Notching machines have garnered significant attention from the engineering community since their introduction in the mid-80s. They are highly sophisticated machines with a user-friendly design. The optimal design of notched parts can increase the life span of the machine's structural and mechanical components.