Working with Multiple Tool Heads-The Interesting Aspect of Milling
Milling device is a special component designed to shape different solid work materials such as metals, wood, etc. While machining solid work pieces the equipment helps to bring out the desired shape by removing the glut part from the work piece. Complicated and accurate workshop operations of shaping such as threading, routing, drilling and slot cutting can easily be done with the help of it's component. Moreover, there are certain interesting aspects in working with tool some of them are,
The device can be operated in variable speed in accordance with the cutting dimension required.
It is a reliable tooling option to handle both light weight and heavy duty material.
The operating mechanisms also changes when tooling option is changed. This makes a convenient option to get the desired precision in specific machining.
The Advancement in Technology Insisted over Milling Device
With the help of computer technology applications such as the CAD different forms of milling apparatus have been introduced by manufactures. CAD is software that helps the technicians to design with the help of computer based designing tools.  A CNC milling machine apparatus that is available as semi automatic and fully automatic forms are capable of producing vibrant machining results. It is designed with the help of CAD by which the requisites of shaping process are considered in advance and the shaping tool and dimensions are easily measured for practical designing application. This method also helps to consider requests for customization of certain important nuances.We work with expertise designers and hence, they lead the market. In addition, it is easy to get durable and cost effective milling devices from Indian companies.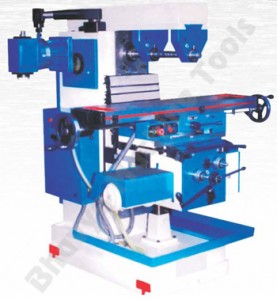 What makes CNC the Best Solution for Milling Requirements?
With CNC the shaping dimension can be pre-determined before applying the machining operation. Moreover, there are certain unbelievable merits in this high technology method such as,
This operations can be done with more accuracy in terms of setting the programme by including dimension details in the computer and the machining process can be monitored for perfection.
The CNC technology can be updated by uploading latest software. However, investors can enquire the manufacturer concerning the changeover of higher versions.
Milling apparatus or any workshop equipments with CNC embedded in it can be depended on for long term application. Hence, productivity will not remain a doubtful aspect.
Man power requirement is comparatively lesser in CNC operated equipment than other traditional models.
Operating the machinery under the surveillance of experienced technicians is an added advantage to make the most of benefits.
Conclusion
Some machinery cannot be negotiated for changing tool heads and some that are designed with computer technology can be customized to work with different tool heads, these makes the investment smarter and allow the investor to make revenue within limited expenditure. A CAD designed milling device is one among the flexible equipment that can be preferred for multiple machining operations.