What are the Types of Delicate Machining Jobs?
A Machining job confirms the perfectness of work pieces which are then applied for various ranges of industrial requirements. Every machining work is customized in accordance with the industrial demands. Hence, workshop activities are available in different forms such as bending, drilling, shearing, cutting, die-cutting and many more. Work pieces are transformed into different shapes as per the requirement. It is very convenient to shape or drill or shear flat surfaces whereas, working with spherical objects is always a complicated task. Moreover, there are other difficulties in shaping jobs that occurs when machining equipment is not compatible to work with different tooling options. Working with heavy materials of variable thickness is yet another complexity felt in machining; hence, many industries prefer to go for customized designs.
How Complex Machining Activities are solved in Earlier Days and how they have been changed with Machinery?  
Most of the workshop processes were done with more manual support in spite of conventional machines available in those days. When it comes to resolving complex machining process, traditional shaping and drilling machines were applied which proved to show only approximate results. Slotting equipment was found to be useful for complex shaping operations; however, industries which depend on moderate and low production can prefer this device for complex shaping application. With latest slotting device designs, it is possible to obtain speedy slotting apparatus with range industrial usages such as furniture making, construction, automotive industry and many more. To handle convenient surfacing needs, a slotting device can be purchased on customize the options over stroke requirement, movement of the slotting tool, width and length of the equipment, etc. A geared slotting apparatus stays a durable and productive option.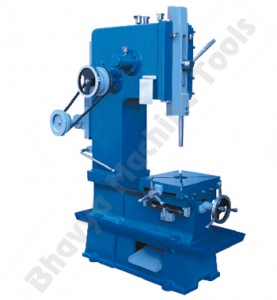 Slotting Device-A Boon for Technically Experienced People

Complicated machining works can be done easily with slotting device. The design of this tools is done in such a way that though it stays similar to that of other shaping equipment this device can be differentiated in terms of the following features such as,
Down stroke action done with vertical tool is found to be efficient in shaping spherical objects and inner surface.
This can be preferred to obtain longer strokes.
If applied particularly for machining internal surface of the work piece metal it can be depended for long term use for specific purpose.
Some of the interesting slotting operations done with this peculiar equipment are, forming grooves in the internal surface, forming splines, internal oil grooves, forming curved surface internally, etc. These applications are not possible with other shaping equipments. Hence, slotting device is considered as a flexible machining option for performing complex machining works.
Conclusion
Machining process and subsequent machinery are interdependent features which can work effectively only when it goes in tune with the industrial requirement. Similarly, a slotting apparatus is one which has to be chosen particularly for performing machining activities in delicate areas. For industries which need machining requirements on spherical or internal surfaces slotting equipment will remain an ultimate choice.