The Increasing Industrial Demand for Different Shapes
Shaping of materials stays a prime requirement in the metal industry as every process is done in accordance with the expectations from different industries. Metals such as steel, cast iron, aluminium, etc are applied in majority of industries either in the form of  raw materials or as supporting components of industrial activities. Automobile and aviation sectors, industrial construction and manufacturing units are some of the leading sectors they exclusively depend on metals as raw materials. However, these raw materials are not applied in the original form, every material is shaped or cut or drilled or sheared in different ways and in a range of dimensions as per the production requisites. Precision is the next important feature that is followed while shape the metals. In earlier days manual assistance was considered a major driving factor for shaping as simple machinery was considered only as a supporting tool. In recent days with the advent of computer technology innovative equipments are designed which with fabricating of metals are done in a convenient and precise way.
The Nuances of Machining Over Flat Surfaces
Metals work pieces are produced in different thicknesses and lengths. The compatibility of cutting operation with that of work piece material is considered more important. Particularly while handling flat surfaces, the point of obtaining accuracy stays mandatory. Tools that support working on flat surfaces such as the shaping apparatus has all the features of metal seminal functionality. It works effectively for machining flat surfaces over a range of planes. Flat surfaces are machined with equipment in various ways with the help of single point cutting component. Machining can be done over a different flat surfaces such as horizontal, vertical and inclined planes. Shapes such as steps, slot pockets, Vee-block are some of the illustrations of flat surface machining possible. These are considered as exclusive tools which can be obtained through customization requests made to manufacturer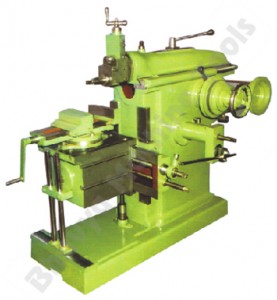 Shaping Device-A Real Innovative Invention to Obtain Different Shapes with Single Tool
Crank type shaper equipments work with single point cutting component that works with long stroke application.
Heavy duty shaping device is an innovative made in machine design which can be relied upon for higher performance
Geared and hydraulic devices work in terms of rack teeth and hydraulic oil power respectively.
Selecting the right tool header can bring effective results on machining.
It is possible to purchase various tool heads for shaping and hence, with investment made in single equipment the investors can bring out multiple machining solutions.
Conclusion
Flat surface machining is not a less important workshop activity. A shaping apparatus is the one of the very few workshop components that can manage machining activities with multiple tooling options. Investors can find reliable and accurate shaping apparatuses with the provision of tooling options in India as there are many leading manufacturers in India who can deliver machines based on the industrial designs.