Facts behind Bending Work Piece Metals

Metal work piece and subsequent machining process done over them had been very tough as most of the times the shaping of metal work piece was completed with manual assistant. However, the rate of precision was found to be unreliable in many cases. The invention of specific machining equipment brought drastic changes in the workshop process, thus industries could witness reliability of work to increase the production rate. Bending of sheets of various metals can be done with the help of sheet bending equipment on complete dependency over precision. Shaping or metal sheets is a long and complicated process as work pieces varies in thickness. Metal layers are fabricated for a range of industrial usages such as manufacturing of car structure, boxes, wings of the aeroplanes, tables, and many more products. Applying the principle has to be done in a systematic way as some metal works need trimming, slitting or perforating before it is sent. It is only with the help of specific machinery can be applied with perfection.
How Possibly Stiffness of the Metals Increase by Bending Method?
It is an explicit work meant to bend metal sheets which are not relatively thick. Either this technology is applied for core manufacturing industrial requirements or to enhance the stiffness of the material. One of the benefits of applying this principle is that process stiffness of metal sheets can be increased with precise application. Increasing the stiffness with apparatus is done by altering the die shape. This is considered as one of the most common sheet metal structuring operations applied to obtain a range of shapes such as L, U, V, etc. However, by increasing the moment of inertia for bending requisite the stiffness of metal can be increased.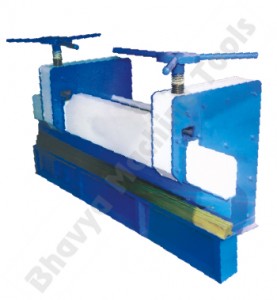 In What Ways Bending Device Helps to Bring Back Your Investment in Multiple Profits?

Workshop requirements vary depending on the industrial requirements. Investing in a sheet metal device is certainly add value to your investment. However, following the nuances will remain more advantageous. For example,
If you purchase this equipment from an expertise manufacturer should stay the first important rule to follow.
It would be better if investors compare the pricing by collecting quotes from a couple of machine manufacturers.
Operating the equipments with experienced technical will provide reliable results in terms of possessing good knowledge about bend ratio. For precise operations it is mandatory to run it with experienced professionals.
Buying workshop machinery from India will stay a good option, as investors can benefit in terms of cost effective pricing, reliability and quality of the machinery and above all availability of customization suiting specific industrial demands.
Conclusion
Finding a sheet apparatus for reliable and precise machining pre-requisites can be done with the help of online search. For specific needs, it is better to purchase machinery from experienced manufacturers.