Countless Uses of Metal for Decorative Purposes
Recently the craze for beautifying construction works has reduced the use of brick work and employs metals in artistic ways. Steel, cast iron, aluminium, alloy coated material are few among them that are considered for creative works. The need for suitable machining tools is also highly felt as they support a largely in easily achieving inspirational sculptures and consumer friendly forms. There are several types of shapes created using steel as base metal for enhancing purposes. The range extends from domestic space to commercial buildings and public places. Starting from light fixtures to art work, frames, and the list is unlimited.
Cutting –The Major and Mandatory Job
Creative outcomes made from tensile materials need strong force to bring them to the desired shape. Convenience in cutting varies based on thickness, width and type of ingredient. Components in the form of sheets remain comparatively flexible for deforming and those that are in rod shape have to be fed into suitable machinery for reshaping them as per preferred assortment of applications.

Unlimited Applications of Rods
Today, rod forms of steel are found have obtained majority likes from consumers because of its compatibility to adapt in infinite ways of creativity. Steel rods for instance are utilized for ornamental aspects for the following luxuries. For example,
They provide Aesthetic appearance when tried in varieties of designs
Bears smoothness when touched
If offers feel of sturdiness
These are pre formed and processed and polished before being sawed.
Stay supple for bringing out into elegant shapes.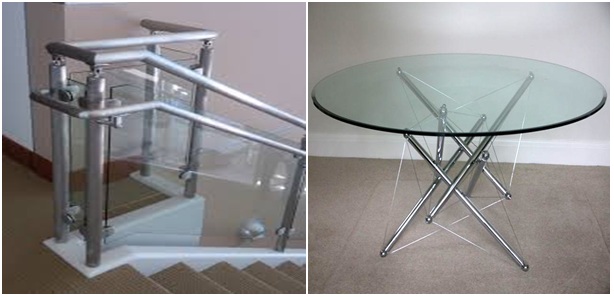 Machinery Role
Among the series of equipments applied for producing artistic patterns using rods, bandsaw plays prominent role in providing accurate cuts. Dimensional precision is most important to reach the desired outline; especially, metal components are quite complicate in this regard. Bandsaws help to achieve this in easier manner. Apart from that,
Application of automatic saws is economical
Provides better results in cutting
Convenient operation to transform into expected dimension for making it further designing
Featured with ease of machining setting options
Faster in performance
Suits best for bulk production

The non-corrosive property of this material makes it a smart and favorite choice of ingredient for making plethora of projects like ladders, door handles, railings, chairs, tables, and many more things. A bandsaw device comes with variable cutting capacities in terms of blade speed. It stays very supportive for carrying out complicated machining works on metal stock which then vary in thickness and shape. Today machine manufacturers are able to analyze its industrial importance and customize important features to make the equipment stay fit for industrial standards. In addition, this device is completed from strong material which makes it perform for long run.
Conclusion
A saw device with automatic features stays supportive to carry out multiplicity of art works made from high tensile elements. Apart from other machining equipments, this device proves to be friendly one to work for creative expectations.