In the Middle East and North Africa region, the lathe machine industry is booming. The demand for lathe machines is increasing as more and more companies in these regions need lathes to produce a wide variety of products. A job as a lathe operator or technician can be a lucrative career option for anyone interested in the field.
Demand for Lathe Machines in the Middle East and North Africa
Lathe machines are a type of machine used to shape various metal and plastic workpieces. This is a multipurpose tool that can be found in workshops and factories around the world. A lathe is capable of producing both cylindrical and conical shapes. These tools are used in a wide range of industries, including general machinery, automotive, aerospace, construction, and manufacturing.
The market for lathes is expected to see moderate growth in the forecast period. This is mainly due to the increased demand for metal machine tools in the automotive industry. Moreover, the rising demand for automated systems is also boosting the market.
The global market for lathes is segmented by region. The main regional markets include Asia-Pacific, Latin America, Europe, and the Middle East & Africa. The global market is estimated to reach US$ 11.9 billion by 2027.
The largest regional market for lathes is Asia-Pacific. China accounts for more than half of the market. This is a result of its large population and economic development. In the future, the Asian region is projected to continue to witness strong demand for lathe machines. However, external demand is expected to be weak.
The Lathe Machines Market is categorized by region and end users. The market is segmented into horizontal and vertical lathes, conventional lathes, and CNC lathes. The market is also analyzed based on product type, application, and manufacturer. The report provides detailed information on market size, market trends, leading players, and consumer preference.
In the Lathe Machines market, the key trends that are influencing the industry include the rise of IoT devices, which can track energy usage and enable optimization of product schedules. Furthermore, the healthcare and pharmaceutical sectors have witnessed a sudden surge in demand for machined components. This is a reflection of the increased need for superior products. The increasing use of real time information access is promoting the use of IoT-enabled devices.
The global market for lathes has seen significant growth in recent years. The demand is driven by a number of factors, such as the increasing need for a high-quality product, the growing automotive industry, and the availability of skilled labor.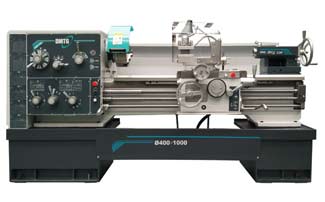 Types of Lathe Machines
A lathe machine is used for a variety of different jobs. It is used in metal, plastic, and glass work, as well as manufacturing. The main function of the lathe machine is to rotate a workpiece so that it can perform various operations. The machine can be operated by manual or automatic methods, depending on the job. The type of lathe you choose will depend on your business's needs.
The most common type of lathe is the engine lathe. This type is used for turning engines and turbine shafts. It is also employed to turn large gear blanks and flywheels.
There are several other types of lathe machines available. These include the turret lathe, semi-automatic lathe, and automatic lathe. Each type is designed to suit a specific job.
The turret lathe is a unique type of lathe that replaces the tailstock of ordinary lathes with a hexagonal turret. The turret allows the operator to carry out various processing procedures. It can be a good choice for production and mass production.
The semi-automatic type of lathe requires the user to participate in the mounting and removing of the workpiece. This type of lathe can be operated by an unskilled user, although it is capable of performing various operations.
The semi-automatic type of machine is capable of operating at high speeds, which is an advantage. It can be used in a variety of different applications, including drilling, polishing, and centering. It can also be a good choice for woodturning.
The automatic lathe is a heavy-duty and heavy-duty high speed type of lathe. It can perform multiple operations with the aid of a variety of spindles, which can be selected based on the job's specifications. The automatic lathe is a very fast and reliable way to produce a wide range of parts.
The most suitable lathes are those that can produce plane surfaces, threads, and screw threads. These machines are usually able to perform three to four varying speeds.
A lathe can also be used to create complex objects, such as bellows, bellows tubes, and other complicated items. These machines are used in several different industries, including aerospace, automotive, and construction. The United Arab Emirates is one of the most important markets for lathe machines, due to the oil and gas industry.

Computer Controlled Lathes (CNC Lathes)
Computer controlled lathes are modern machine tools that are used for machining a variety of materials. These machines are commonly used in various industries. They can be large, small, and even extremely small.
They are capable of generating the same products, but at a much faster rate than manual lathes. However, they do not eliminate all errors. Using CNC lathes requires a computer to program the machine, which is why it's important to know how to do so.
These machines are used in the manufacturing industry. They can produce different metal parts with great precision. They can be set up to run multiple operations at once. This saves time and effort, especially if you are making products that are complex. They are also more affordable than manual lathes in terms of monetary expenditure and hiring staff.
When you are looking for a new CNC lathe, it is important to understand how the software and the machinery work together. There are a number of common software systems that are used with these machines. These include Hass, FANUC, and Siemens. These software programs can be used to make 3D STL designs, which can be used to create CNC programming.
Once you have determined the kind of materials you want to use, you can choose a type of cutting tool. This will depend on the machining operations. There are many types of tools, including tungsten carbide, cobalt, and steel.
Typically, lathes are used to turn metal or wood. They can be used to perform shallow cuts on round stock.
A lathe is made up of a bed, which is a solid piece of metal, and a turret, which holds a part. The turret can be loaded with internal tools or tools that are externally mounted.
These machines are capable of completing a single CNC programme at one time while another programme is being created. This saves time and effort, and it allows for quicker cycle times.
They have a very low rate of error, and they are much more precise than manually operated lathes. They are also more versatile. They can handle a variety of materials and can be configured to meet any need.
Job Description for a Lathe Operator
If you are interested in a career as a lathe operator, you'll want to consider some of the following skills. In addition to the technical knowledge required for the job, you will also need to have a strong attention to detail.
You'll also need a strong working knowledge of basic mathematics. This is because you will be using math to measure parts and calculate the amount of material needed for the project. You'll also need to know how to use specialized computer software to design and produce metal and plastic parts.
It's also important to be aware of the hazards associated with lathe work. During your training, you'll be taught how to safely operate the equipment. You'll need to follow all safety guidelines. In addition, you'll be expected to take a drug test.
Most employers will provide on-the-job training for lathe operators. On-the-job training is usually provided for a few weeks. After your training, you will be able to perform the duties of a lathe operator.
Lathe operators will need to be proficient in communication. You'll need to speak with customers and co-workers. You'll also need to be able to read blueprints. A high attention to detail can help you notice if there are any flaws in the parts you're working on.
You'll need to be able to work in a noisy environment. You'll also need to be flexible. Many lathe operators will need to work overtime if they need to meet deadlines. You'll also have to use earplugs and other protection to avoid hearing damage.