The various sheet metal machineries for shearing, bending and cutting are described below:
Press Brake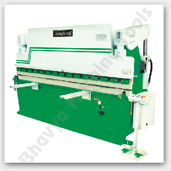 The mechanical press brake has a sturdy frame built from high grade steel. It also consists of steel plates with appropriate thickness and machined guide ways. This strain-free equipment supports ram and bed from unnecessary deflection under tolerable loads. The power is transmitted via two individual gear drives to uniformly distribute load throughout its length. While the hydraulic press brake comprises of superior quality hydraulic components. It has two cylinders mounted at back side and connected through mechanical links. They are also synchronized for parallel motion between ram and table. The heavy duty steel frame can absorb heavy shocks caused by overloading. All edges are accurately machined and welded for durability. The power unit is fixed appropriately on the wall; hence the operator can easily reach the push button and foot switch.
Shearing Machine 
The hydraulic shearing has a squaring arm on left and right side with hardened lines for even load distribution. The front gauging has stops and scales on squaring arm. The recessed table includes hardened rods to feed sheets easily. The sheet is supported by long plates; and the ramp on back side slides to allow cutting sheets outside shear area. It also has a finger safety guard that provides clear view of cutting area. The movable foot switch provides easy and convenient operation. It also has an efficient, compact power pack with least piping. The neat electrical wiring enables easy trouble shooting. Whereas the under crank shearing device is precise and robustly constructed for uninterrupted production, repeatability. It has a foot pedal, fly wheel, gear guard, self lubricating system, motor pulley, and a pair of four edged shear blades. The front and back gauge is manually operated and the finger guard in the front protects the operator. Further, the over crank shearing is accurate and works constantly and repeatedly. It consists of four edged, single segment knives for longer durability. They can be easily assembled and minimizes downtime. The scale on back gauge enables instant reading of distance between shear and back gauge.
Bending Machine 
The plate bending machine can handle heavy stresses and loads. It is highly safe, requires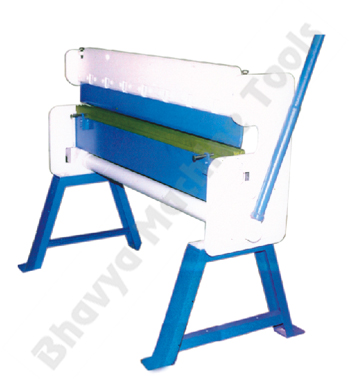 minimum power and reduces running cost. It is designed to deliver top quality products, increase unit durability; prevent breakdown and revenue loss. Further the section bending tool includes motorized drive for bottom rolls; foot switch control switch and reverse forward starter for easy, quick changeover of rolls; a scale for adjusting rolls; and hardened, grinded shafts.
Applications
The various applications of mechanical, hydraulic press brake; hydraulic, under crank, over crank shearing; plate, section bending includes electric panels, roofing, bus bodies, kitchen equipments, generator enclosures, steel tanks, stainless steel equipments, coil cutting industries, air condition ducts, container manufacturing, flour making, industrial structures, rail coaches, tipper trucks, wind mill manufacturing, turbine enclosures, etc. Hence these sheet metal machineries for shearing, bending and cutting are used in several industries.