When shopping for a hydraulic press brake, you need to pay close attention to a few factors. These include accuracy of.0004″, large strokes and daylights, and deep throat depth. In addition, you need to consider how much force it can exert on different types of materials. You should also consider whether the machine is portable or needs to be towed.
.0004″ Accuracy of Hydraulic Press Brake
Hydraulic press brakes are highly accurate machines with parallelism of.0004″. They can bend parts to the highest accuracies with minimal frame deflection. These machines are typically engineered with the most advanced finite element analysis software. They have superior accuracy and can produce parts with a.0004″ tolerance.
Unlike other press brakes, hydraulic brake presses feature downstroke ram systems that provide greater operator control and reduced fatigue. These systems feature a heavy-duty ram that moves between extra-heavy side frames. They also have massive steel torsion shafts for keeping the ram parallel. Additionally, mechanical depth stops provide constant ram penetration accuracy. This eliminates the need for micro switches and high-maintenance hydraulic proportional valves. Moreover, keyed precision mechanical depth stops ensure.0004″ accuracy of the ram penetration.
The Accurpress Advantage press brake package is available on Accurpress press brakes up to 30 hp. This package includes a proportional valve hydraulic system. Encoders mounted on either side of the press provide Dual ram feedback, which is a great advantage for precision stage bending applications. The Accurpress also has a Ram Tilt Indicator that measures the ram tilt adjustment.
Besides being an accurate tool, hydraulic press brakes can also help in the production of precision parts. They can be programmed to operate in a repeating cycle. The cycle is called Approach-Pressing-Return. These cycles can be adjusted to suit the type of job and the speed of the operator. If the production rate of the hydraulic press brake is high, permanent intervals are used to optimize production.
Large Strokes in Hydraulic Press Brake
The Bhavya hydraulic press brake is a fast, accurate and repeatable tool. It features large strokes and deep throats, which allow for larger flanges and easier part removal. These features allow for quick setup, faster production, and higher piece to piece quality. This article explains some of the key features of an Bhavya hydraulic press brake.
The first step in operating a hydraulic press brake is to install the dies. These dies are loaded onto the bottom die of the press brake and are then placed on the stock. Once the stock is loaded, the operator can activate the press cycle. However, the press brake cannot stop or reverse the stroke, and it must be completed before reaching top dead center.
The second step in selecting the correct press brake is to understand the stroke. This measurement measures the distance between the top of the upper beam and the bottom of the lower die when the press is fully opened. You must also know the height of the upper die. This is important because some workpieces require a higher upper die height than others.
The hydraulic press brake is a popular choice in fab shops. This tool is safe and easy to operate, and is a great alternative to manual machines. Modern hydraulic press brakes are more precise than their predecessors and require minimal manual intervention. These advanced machines are designed to meet the demands of today's fast fabricating environment.
Large Daylights of Hydraulic Press Brake
The hydraulic press brake is an essential part of any production facility. It allows the material to move smoothly between the upper and lower tooling and bends, extending the cycle time. Most brakes have a variable-speed ram that increases its speed when approaching the material but decreases its speed during actual braking.
Top-of-the-line press brakes offer a range of features that can increase production. High-performance hydraulic press brakes feature large daylights, large strokes, and large throat depths, making them ideal for both simple and complex shapes. These presses are also easier to control with cnc controls, reducing the level of operator skill.
Deep throat depth of Hydraulic Press Brake
The deep throat depth of a hydraulic press brake is beneficial for many applications. It allows for deeper box cuts, negative edges, and large open heights. Some models have as much as 450 mm of throat depth, while others are more limited. The deep throat depth of a hydraulic press brake makes it easier to work with large, oversized parts. This feature makes it possible to produce a larger number of parts per set. It also reduces maintenance costs.
A hydraulic press brake with a deep throat depth has fewer mechanical components than a traditional bending machine. This means it is more sensitive, precise, and reliable. Additionally, the hydraulics are compatible with any 'Y' axis CNC control. Optional CNC gauging systems can almost double press brake output, help cut scrap waste, and ensure part uniformity.
The depth of a hydraulic press brake determines its flange length, which is essential when bending large parts. Most press brakes are constrained by the throat around the driving cylinders. Besides, the top dead center of the press brake determines the maximum height and tonnage. Modern hydraulic press brakes can control tonnage very precisely. A press brake with deep throat depth can withstand much more weight than a conventional brake.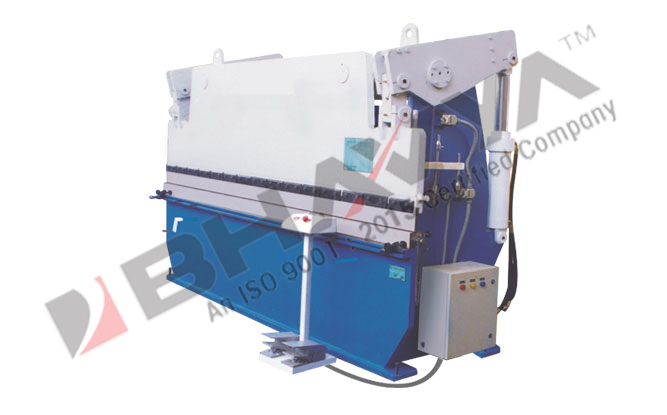 Servo-Electric Hydraulic Press Brakes
Servo-Electric hydraulic press brakes are designed to make precise bends in a variety of materials. This type of machine uses two synchronized servo motors to apply bending force. Return force is provided by springs on both sides of the machine. The belt starts uncoiling after the bending process is completed, and the springs push the upper beam back to its original position.
Compared to traditional hydraulic press brakes, Servo-Electric press brakes are quieter and fuel-efficient. They are also more environmentally friendly and do not contribute to noise pollution. Moreover, they are cheaper to operate as they do not need frequent oil changes and seal maintenance.
Servo-Electric hydraulic press brakes can be used in areas of high temperature. These machines are ideal for countries near the equator and South China. Because of their energy-efficient design, they use 40% less power than traditional machines. Other features of servo-electric press brakes include automatic program calculation, laser detection, automatic feedback and compensation, and anti-collision controls.
The main advantages of the servo-electric hydraulic press brake over the hydraulic version include lower energy consumption, high processing efficiency, and low maintenance. They are more durable and flexible. In addition to servo-electric press brakes, Dener CNC servo-electric press brakes are low energy and maintenance-free.
Cost of Hydraulic Press Brake
You may wonder how much a hydraulic press brake will cost. There are many factors to consider, including size, material, and manufacturer. It is also important to consider the cost of parts, such as dies. A hydraulic press brake should be reliable and cost effective. Some major brands have their own factories, while others outsource manufacturing.
The main question to ask yourself before purchasing a hydraulic press brake is what your bending requirements are. If you're bending two dimensions, you'll want to get a machine that can bend the two dimensions from the front and the back. You'll also want to consider the thickness of your sheet and plate, and any fudge factors.
Accuracy is a major factor to consider, especially if you have to adjust the pressure when changing sheet metal. An inaccurate press brake can lead to a lot of scrap, which is costly. High-quality hydraulic press brakes are known for their accuracy and efficiency, so if accuracy is important, you may want to invest in one.