A surface grinder as the name suggests is meant for grinding operations. This is one of the most common machines for grinding operations. The main purpose is to ensure a smooth finish on a flat surface. There are a several types of surface grinders like those of different orientation (vertical / horizontal). These are precision devices and are able to produce perfect ground surfaces. However, the degree of precision depends the type and usage.
Main features of a Hydraulic Surface Grinder
A hydraulic surface grinder is important equipment which meant for grinding of engine blocks, facing engine heads, etc. There are many advantages of using this is equipment since it has many good features as per this listed:
This has segmental grinding wheel which offers high accuracy for grinding.
All the settings and adjustments are easy to manage.
It is also easy on the pocket.
There is an option of a micro feed (with the wheel head) that is hand operated.
It is heavy duty and has a robust base structure.
It has a slide with excellent rigidity and is also capable of handling heavy jobs.
Offers high rigidity and z axis accuracy.
A magnet slide is immersed in oil bath. The other parts are lubricated with oil using a centralised lubrication pump.
Spindle is mounted on a spindle housing, which runs on bearings. These bearings are packed with grease to improve overall life. They make use of high precision and antifriction bearings for this purpose.
It provides a direct drive feature; hence this eliminates any vibration.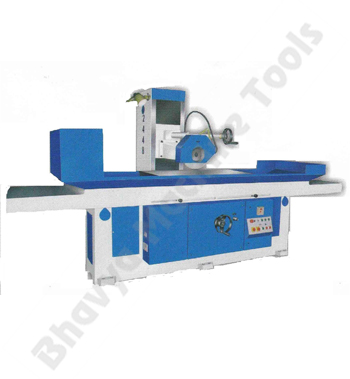 Common Accessories of Hydraulic Surface Grinder


The hydraulic surface grinder has several accessories as well; some of which are optional, and others are standard ones. The accessories extend the features of the equipment and make the tasks simpler and more flexible.
Here is a list of few accessories:
Grinding Wheel, Leaving Screws
Flange Puller, Spindle Locking Spanner
Wheel Flange, Diamond Dresser Block
Table Guards, Magnetic Clamp Boll
Diamond Dresser with Holder
Spanner for Wheel Change
Micro feed for Elevator, Electric Panel
Micro feed for Cross Slide, Electric Motor, Magnetic Chuck
Work Light, Coolant Pump with Tank & Flash Guard
Wheel Adopter Puller
Angle & Radius Dressing Attachment
Wheel Balancing Stand with Mandrel
Centralised Lubrication Pump
Tips on buying a Hydraulic-Surface-Grinder


The hydraulic surface grinders are for use on metallic and non-metallic materials. They provide such material with a more refined appearance. This is mainly due to the removal of an oxide layer and other impurities on the surface due to previous work done on it.
This equipment is the best to ensure a desired surface structure is achieved and that it is functional. This equipment consists an abrasive wheel, along with a work holding device (chuck) and a rotary table. The role of the chuck is to keep the material in place while it is being worked on.
There are several factors to consider when searching for a Hydraulic-Surface-Grinder:
The material of the grinding wheel itself.
Material of the piece being worked on.
Be informed that the workpiece materials include steel and cast iron.
Keep an eye out for corrosion when grinding at high temperatures since this tends to weaken the material. There is also a chance of magnetism if applicable.
In Conclusion
There are several types of surface grinders. The horizontal spindle surface grinder is the one where the periphery of the wheel is in contact with the workpiece. This ensures a flat surface. This type of grinding (peripheral grinding) is usually associated with high-precision work and is usually performed on a flat surface.
The other types include the vertical spindle surface grinder, disk grinders and double disc grinders. For the vertical one, the face of the wheel is for use on a flat surface. Such wheel face grinding is usually for fast material removal. The disc grinder has a larger contact area between disk and workpiece similar to the surface grinding and can be either vertical or horizontal.