Drill Machine
It is used for drilling holes in different materials. It's also called as drill press used in drilling various sizes of holes in any surface area and to a precise depth. They have revolutionary changed the industrial work of every kind to make the complex task very simple. Fine quality equipments with latest technology and standards have made the machining work more precise and accurate. These are in high demand across the world due to effective precision machinery work and cost effective price and maintenance. There are varieties of drilling machines for different applications.
Types of Drilling Machines


Drill machines are categorized as pillar drill machine, radial drill machine and drilling cum milling machine. Pillar drill machines have rigid structure and vibration free machining. 13-20-25mm pillar drill machine and 38-40mm pillar drill machine are used in different industries worldwide. RAM from special alloy steel pipe of more thickness gives more strength bearing capacity. These are very common and parts are also easily available. These are available in various dimensions of drill head, base plate and capacity. All geared radial drill machine comes in several models with highest degree of accuracy. All geared drilling machine comes in various capacities for drilling various radius ranges. The bearing shafts and main assemblies are force lubricated and gears are induction hardened and the spindle is hardened and ground. Radial drills are of three types. One is plain radial drill where the drill spindle is always vertical and may not swing over any point of the work. Drilling cum milling machine is two-in-one functioning machine works for drilling and milling operations.
Applications of Drilling Machine
Drill machine made from quality materials, using advanced technology have low maintenance and high performance with higher precision machining work. Various models provide convenience and versatility. These machines are used in industries like manufacturing, metalworking, woodworking, masonry and construction as well. Apart from drilling holes, drill machine is featured of performing various tasks like tapping, spot facing, reaming, counter sinking and counter boring etc. Tapping is a process to hole in pipelines under pressure. Spot facing application is furnishing finished circular surfaces around the top of a hole for seating the washer or the bolt head. Pillar drill machine is used to drill holes in concretes, rocks, heavy duty machines, metal sheets, plastic, wood, glass and other material. It has durable bits which extends the efficiency and performance in heavy load conditions. The height and penetrating assembly of the drilling machine can also be adjusted.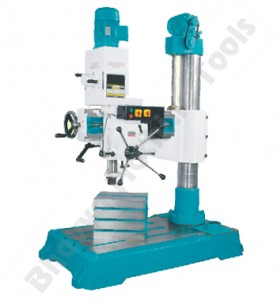 Radial drill machine is a machine, where drilling head is mounted slide along a radial arm which can be rotated, raised or lowered on a vertical mast to adjust the position of the drill above the work piece. The radial drill machine is much known for its precision, accuracy and efficiency. Radial drills are designed for very precision and accurate work ensuring smooth rotation of column and avoid angular deflection of spindle axis. It is of very much robust construction for heavy duty drilling. Minute inspection with accuracy is required while operating radial drilling machine. The drill table is placed on a solid foundation to hold the heavy work. When the piece of work is secured on the drill table, the drill spindle may be placed over any part of the work without moving the latter.
Drilling cum milling machine is used for both drilling and milling function on the work piece. Bhavya Machine Tools is one of the prime machine tools manufacturers in India provides all types of drilling machine and other machinery tools with reasonable quote.