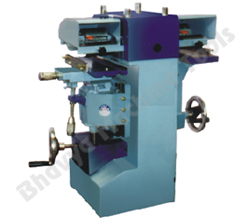 A woodworking machine is primarily a workshop equipment; which is used to process wood. These tool room devices are normally powered by electrical motors; and are commonly utilized in wood workshops, timber mills and furniture industry, to perform a wide range of woodworking tasks such as wood cutting, carving, and shaping.
These are highly accurate and versatile tools. They help to implement different woodworking projects in a wood workshop; in order to manufacture a variety of wooden furniture and many other wooden items. Some of the most popular woodworking equipments that make difficult jobs easy are as follows.
The band saw is the simplest of all the woodworking equipments. It is used to precisely cut wood with smooth curves. Moreover, band saws are mainly utilized for re-sawing and cutting broad strips of wood stock as well as long wooden logs. They are compact in size and can therefore be easily operated to perform diverse wood cutting applications even in congested workshops.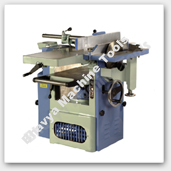 The surface cum thickness planer is the right woodworking tool for planing down very thick wooden boards to the required thickness. This surface finishing tool slashes the surface of wood stock into even layers to produce boards of various dimensions. Moreover, a thickness planer can create uniform and flat wooden boards with the same thickness throughout their length.
The jointer is mainly used for joining two pieces of wood. It is an ideal tool for milling a flat, even surface on one side of a wooden board. It is also the perfect for joining a wooden surface exactly perpendicular to the edge of another wooden piece. They are available in various shapes and sizes.
The drill press is a multi purpose woodworking machine. It is a vital component of the wood workshop; that is extensively used for drilling accurate holes in the work piece. Wood workers also use it to bore holes at different angles in a precise manner. The drill press holds the work piece stationary while the drill moves axially to penetrate the wooden material in order to make holes.
Every woodworker also uses either a circular saw or a table saw. The table saw is regarded as an essential tool of any wood workshop. Large table saws are rapid and safe tools. They are commonly used to neatly cut large pieces of timber. Several tasks can be done on the table saw. It is a versatile workshop tool around which a woodshop is designed. A typical table saw unit includes a large and strong table; a solid fence and a sturdy electric motor. Table saws are intended to make deep square cuts, cross cuts, beveled cuts or compound cuts.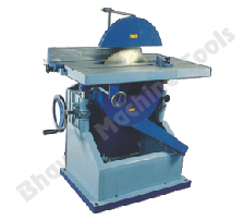 The adjustable circular saw is another type of woodworking machine that includes an adjustable, tilting working table to perform cuts of specific depths on the work piece. This workshop machine is a highly efficient wood working tool used for crafting highly accurate straight cuts. It is also equipped with accessories like motor pulley, motor plate etc.