A Fiber Laser Cutting Machine has many advantages over its other counterpart. The main benefits of this type of machine are its high accuracy, low heat input, and low operating costs. Here are some of its key benefits:
High accuracy with Fiber Laser Cutting Machine
A high accuracy fibre laser cutting machine is a new generation of CNC equipment that is designed for the precise and high-precision cutting of metal materials. This machine features abrasion resistance and shock absorption for long-term operation. A drawer-style work platform makes loading and unloading easy, and a power-driven vertical door reduces floor space.
It is important to maintain the high-precision fibre laser cutting machine properly. Besides regular maintenance, this machine should also have a strong laser cutting head, a reliable ground wire, and an accurate working voltage. If you do not have any experience in operating the fiber laser machine, it may be difficult to operate it correctly. Failure to replace the laser cutting head can result in higher production costs, reprocessing of the material, and decreased productivity.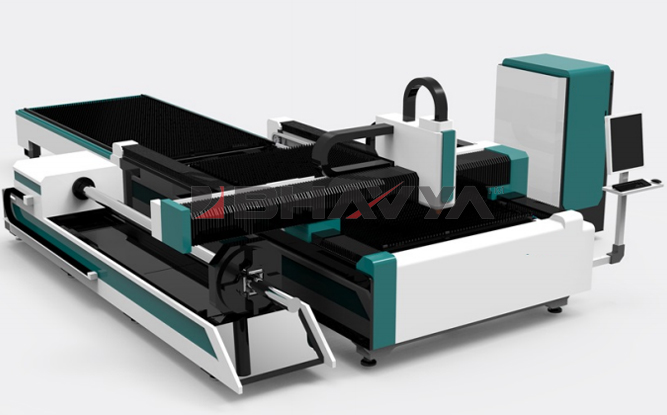 Fiber Laser Cutting Machine offers Low Heat Input
Optimal process parameters for a low heat input fibre laser cutting machine are the cutting speed and surface quality. The latter depends on the physical parameters of the processed materials. For example, the thinner the metal workpiece, the higher the surface roughness. For this reason, the speed and surface quality should be optimized several times.
Compressed air is a suitable auxiliary gas for low-end cuts of metal and other non-metallic materials. Compressed air also helps reduce the oxide film and save cost. During the cutting process, nitrogen will not cause excessive slag, but air will cause slagging at the bottom. To avoid the problem, use a machine with higher air pressure. The gas pressure will help blow off more smoke dust.
Low Cost of Operation with Fiber Laser Cutting Machine
There are several factors that influence the cost of operating a fibre laser cutting machine. The materials you are working with may require a high cost of operation or higher quality. For example, steel is less expensive than high-grade aluminium, so you will have to invest in more resources and time to cut through thicker materials. The longer the material is, the more expensive the laser will be. The time it takes to heat up will also increase the cost of the service, and the more layers it will have to cut through, the higher the overall cost of operation.
The model of the fiber laser cutting machine is also crucial. The cost of operating a fiber laser cutting machine is lower than a CO2 laser. Unlike CO2 lasers, they do not require maintenance on the resonator, optics, or beam path. Furthermore, the beam size and alignment remain consistent throughout the entire cutting process. This allows for consistent results and repeatability of the process parameters.
Multi-machine Fiber Laser Cutting Machine
Compared to other types of laser cutting machines, fiber laser cutter is much more cost-efficient. Its features include compact size, small volume and low weight, no need for expensive gas or reflective lenses, and simple, maintenance-free optical system. It can cut metal materials and does not absorb non-metals. This feature makes fiber laser cutting machine suitable for mass production. Another advantage of fiber laser cutter is that it has a higher cutting speed than other laser cutting machine.
This cutting machine is designed to cut thin metal plates with high quality and precision. It is suitable for a range of materials, including carbon steel, stainless steel, titanium alloys, galvanized steel, silicon steel, and aluminum-zinc plates. In addition to cutting thin metal plates, fibre laser machines can process thick sheet metals. Bhavya Machine Tools manufactures fibre laser cutting machines with a variety of powerful and high-quality lasers. These machines are energy-efficient and offer excellent performance.
Fiber Laser Cutting Machine are Easy to Maintain
One of the best things to do to keep a fiber laser cutting machine in good working order is to clean it regularly. It is important to make sure that there are no stains or debris on the machine. A vacuum cleaner is useful for removing unwanted dust from the machine. Cleaning the machine should also include checking for gas and track temperature. If any of these issues are detected, operators should contact the manufacturer. They will help to resolve the issue.
In Conclusion
A fiber laser cutting machine is best used for pipe applications as it offers excellent cutting effectiveness and speed without the need to invest in a costly training program. You can get a good price for the machine if you ask an expert. This type of machine works best on alloy steel, stainless steel and other sheets of metal. It is widely used in high pressure electrical cabinets. A fiber laser cutting machine has many advantages.