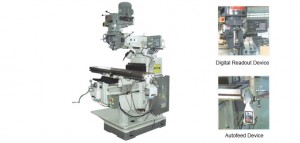 The milling machine is a versatile tool that is utilized for machining solid materials. It can perform various simple as well as complicated operations, such as slot and keyway cutting, planing, drilling, contouring, diesinking, etc.
They are mainly classified in two basic configurations namely vertical and horizontal, based on its orientation. On vertical the spindle axle is vertical, where as on horizontal machines it is horizontal.
Later on with the development of technology, the computer numerical control or CNC milling machines were introduced in the market. These devices enable the users to input instructions related to different parts. Some CNC equipments also include remote control devices. Besides this they also help to increase the efficiency and reduce the manufacturing costs. Additionally this modern unit has the capacity to run at higher speeds and produce very accurate products on a large scale.
CNC Milling Machine
It is regarded as one of the highly significant tools. It is commonly used in various industrial segments for fabricating components. These help to effectively carry out repetitive and complex milling tasks that were earlier done manually since the past several years. As a result it assists to increase the profitability as well as productivity. Hence they are preferred over the traditional machines, and also considered as a very important machine in a large number of industries.
A variety of CNC units are now readily available in the market. And all the models can easily perform various cutting and drilling operations. The latest kinds of CNC are commonly known as multi axis machines as they either have 3, 4, or 5 axes. Consequently, which has more number of axes is relatively expensive, as compared to the machines with less number of axes. This is due to the fact that with higher number of axis can execute relatively complex operations. Thus, most of the large scale manufacturing units now prefer using 4 and 5 axis, since they help to enhance their output. Know more at – http://www.bhavyamachinetools.com/tool-room-machines/milling-machine.html
All CNC milling primarily include integrated control software. And the operations are controlled by that specific control software. Hence the operators should have the necessary skills in order to control these computerized machineries for performing highly accurate milling operations. Most of tools enable to deliver very precise products as compared to the conventional or manual equipments and also reduce wastage.
Further, these state of the art milling equipment are ergonomically designed. Hence the operators are not required to bend, bow and twist their body while setting and operating the device. Moreover, the cutting tool operates within an enclosed area. This serves as an effective preventative measure for avoiding injuries and accidents that may be caused by direct exposure to the milling operations. In short, all CNC assist in fabricating top grade and highly accurate components. Therefore, using a CNC milling will surely enable to provide higher returns on investment.