A radial drill machine is a machine used in drilling. The motor powers the spindle, which in turn rotates a stepped pulley. To increase rotational speed, the stepped pulley can be inverted. The motor is coupled with a V-belt placed between the stepped pulleys to increase power efficiency. The drill bit is then placed in the chuck, which is connected to the spindle.
Z Series Radial Drill Machine
The Z series Radial Drill Machine offers versatility and convenience for heavy metal drilling and a wide range of drilling applications. The high efficiency of this machine comes from its features such as low noise, aged normalized closed-grain cast iron, and high-quality components. You can purchase Z Series Radial Drilling Machine from Bhavya Machine Tools, and even get more information on this drilling machine.
With a quiet gearbox and easy mechanical shift manipulation, these drills have all of the necessary features to make your job easier. These machines are capable of drilling different diameter workpieces, and they excel at tapping and reaming. Their quick spindle returns make them ideal for a variety of drilling applications.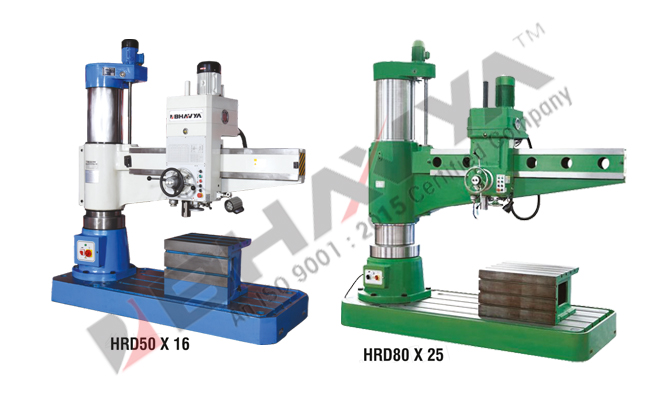 BPR-25 Radial Drill Machine
This radial drill machine can bore up to 910mm in diameter. It has a sturdy instrument design and a drilling head that is suitable for various types of metals. This machine is suitable for woodwork pieces, too, and has a high degree of precision. The fine cast iron construction minimizes vibration. The machine is also low-maintenance.
The machine is suitable for drilling, counter-boring, and reaming applications. The Radial Drill Machine information is provided in detail at our website https://www.bhavyamachinetools.com/. It also includes a detailed specification, features, type, and application.
Another important feature of this radial drilling machine is its ability to allow for quick and precise drilling, without creating damage to the surrounding area. The machine is equipped with safety features. It also features a wide radial arm for maximum flexibility and versatility. The machine's price range varies greatly and is a good investment for the money.
It has the versatility, power, and precision necessary for a wide variety of applications. The Bhavya Machine Tools Radial Drill Machine is available in different models. The model is easy to use with its manual and parts list. It also excels in tapping and has a fast spindle return.
A radial drilling machine is a special purpose machine for drilling holes in a given radial distance. You can find more information about this radial drill machine on the Bhavya Machine Tools website. The BPR-25 Radial Drill Machine features a large, powerful induction motor.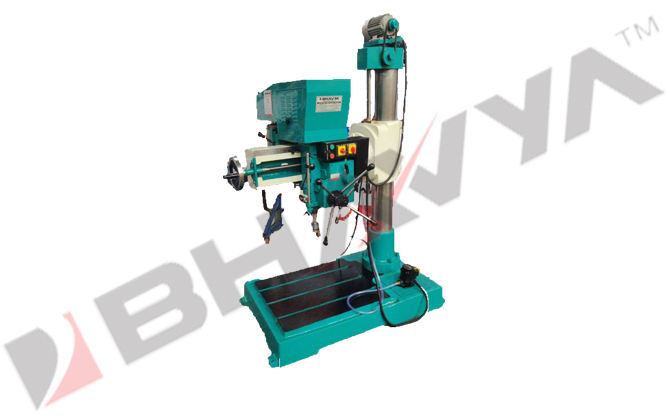 All Geared Radial Drill Machine
If you need to buy an All Geared Radial Drill Machine, then the best option is to buy one from a reputed vendor like Bhavya Machine Tools. We as a supplier have an online presence and provide detailed information about our machines. Our website will provide you with our contact details, office addresses, phone numbers, emails, and more. 
The All Geared Radial Drill Machine is a V-belt driven radial drill machine that can be used to make holes in various materials. Its radial boring capacity is 40mm, and 50mm, and its different spindle travel range allows you to drill holes in various materials. These radial drill machines are compatible with other series rigs, ensuring they will be dependable and efficient for your drilling needs.
The All Geared Radial Drill Machine is designed to provide optimum strength and rigidity with maximum ease of use. Its high-speed gears and box-form arm are made of heavy steel and feature a tension-return spring for smooth operation. It also features an extra-large cast base equipped with heavy internal webbing. The All Geared Radial Drill Machine series is a good choice for educational institutes. And it is also affordable enough to be used by the general public.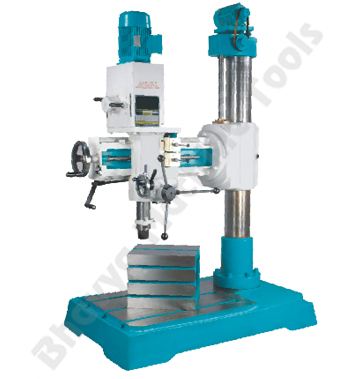 All Geared Auto Feed Radial Drill Machine
All Geared Auto Feed Radial Drill Machines are heavy-duty industrial tools designed for specific purposes, such as drilling large components and metals. They have many professional features, including an auto-feed range and a maximum spindle nose. Their internal gearbox and auto-feed mechanism eliminate power loss. The all-geared auto-feed feature is particularly useful in heavy-duty boring applications. This type of machine is ideal for heavy-duty drilling, tapping, and piercing.
All geared radial drilling machines are available in a variety of models and sizes. They are built to meet the highest quality standards and find applications in many industries. A geared head mounted over a radial arm is the centrepiece of this type of machine. The rotating spindle is controlled by a counter-balance arrangement. A thick base plate and a vertical column allow the drill head to turn and move in and out as required.
In Conclusion
Radial drilling machines offer superior durability and dependability. A high level of rigidity and strength is essential for reliable operation. They are made of aged, normalized closed-grain cast iron. The robust construction makes them ideal for heavy-duty drilling and boring. They can also be paired with an overhead crane. They are a cost-effective way to perform many different tasks, from drilling to taping to boring.