A radial drilling machine is a powerful drilling tool that performs heavy-duty operations on thick metals. These machines are used by thousands of global manufacturing companies to make holes up to 75mm in nearly any material. They are extremely versatile and can drill through aluminum, carbon steel, alloy steel, and cast iron. They are incredibly easy to operate and require minimal manpower to produce accurate, high-quality holes in large workpieces.
The radial arm is a mechanical tool that moves up and down without moving the workpiece, making it ideal for drilling multiple holes at the same time. The drill head is moved along the length of the arm by a hand-crank or hydraulics. The arm also features a chuck for holding the drill bit, which allows for precision drilling. And the machine can be configured to drill small or large holes in a single setup.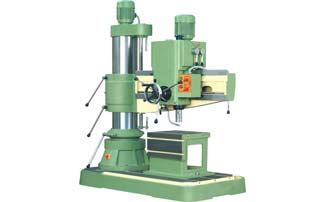 The radial arm is an adjustable part that slides over a column. The radial arm is a rectangular or round fixture with slots for the workpiece. The chuck holds the drill bit in place and drives it into the workpiece. A rack and pinion system connects the drill head to the chuck. This allows the drill to move smoothly across the arm. This enables the machine to be used in a variety of applications.
The radial arm is a rotating tool that is mounted above a column. This arm rotates in 360 degrees. The drill head is attached to the radial arm by a lever. This enables the operator to adjust the drill head in any direction. The operator simply pulls the lever to swing the arm and push it in any direction. This tool is also highly versatile and capable of processing a variety of different workpieces.
A radial arm is a versatile drilling machine that can drill a variety of sizes. These machines can also be used to drill several holes at the same time. These machines can work with different types of materials, including metal, plastics, and wood. They must have a high degree of reliability. This ensures consistent and quality results. This type of radial drilling machine is an excellent choice for a wide range of applications.
A radial drilling machine consists of three main components: an outer column and an inner column. The outer column is sleeved and can rotate 360 degrees around the inner column. The drill head is fixed to the base with a clamp, and the rocker arm moves up and down on the outer column. Neither of these can move independently. It is therefore necessary to adjust the drill spindle axis to ensure that the machine is in the proper position to work with various materials.