Before you buy a CNC Lathe Machine, it is important to learn about the different kinds. Different machines have different axes, and using different axes allows you to make parts of different sizes and shapes. You will also need to choose the type of transportation that your CNC Lathe will receive. A basic CNC lathe has two linear axis, and can be used for facing and outer diameter operations. However, it does not allow milling.
A CNC Lathe Machine's core part is the control device. It is composed of a computer and an LCD display, and it uses a G-code or a tape reader to perform various operations. The feed and spindle drive are realized by an electric servo system. Several feeds are used for processing straight lines, space curves, and planes. Besides, you can use different toolpaths to perform different tasks on the machine.
A CNC Lathe Machine is controlled by a computer with a menu-type interface. There is only one operator, who supervises the process. The computerized data and CAD/CAM program automate the movements of the machine. The axes are controlled by a CNC controller, which works with a series of motors. Once you have programmed the movement, the axes will execute the movements. A CNC Lathe Machine is an excellent choice for machining parts of any size and shape.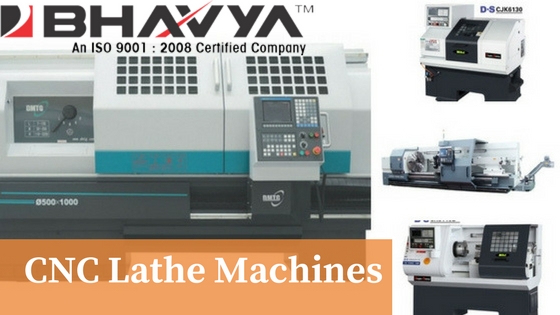 The first step in a CNC Lathe Machine is putting the cylindrical material block into the chuck. Then, you set the spindle to the required speed, and the chuck rotates with the workpiece. Once it has reached the desired speed, the carriage must be moved to a specific feed position and perform the cutting operation. Then, the carriage must be removed from the workpiece. Then, you are ready to start making your new CNC Lathe Machine!
A CNC Lathe Machine is an extremely versatile piece of machinery. It can perform a variety of tasks. For example, it can be configured vertically or horizontally. It can also have a slant bed or a flat bed. A CNC Lathe Machine can also support a number of different machining operations. Whether you are making tools for the aerospace industry or preparing parts for other industries, a CNC Lathe Machine is the perfect tool for the job.
A CNC Lathe Machine can be used to make parts of different sizes and complexity. Because it can make complex parts, it is an ideal tool for many industries. You can switch between different parts easily, which reduces human error and costs. If you're considering purchasing a CNC Lathe Machine, you should talk to an expert first. In addition to the cost, it is essential to learn more about the benefits of this CNC machine.