If you are considering purchasing a new machine for your manufacturing operation, you may want to consider the benefits of an Angle Cutting Machine. This machine allows you to reduce human resources and energy expenditure while cutting products of high quality. In addition, it ensures the quality of the cut after the product is finished. This type of machine can also help you cut more materials than you would if you were doing it manually. Below are some benefits to consider when buying an Angle Cutting Machine.
Angle Cutting Machine Ensures Product Quality
Angle Cutting Machine ensures product quality after cutting. It is equipped with integrated systems to offer maximum user safety. The precision of the cutting process depends on various factors. The stand-off distance of other cutting heads is set at the piercing point, assuming that the workpiece is flat along its cut path. However, the stand-off distance can vary according to the material flatness and the angle of the part being cut. Therefore, it is important to maintain a constant stand-off distance when cutting an angle. The greater the angle, the higher the accuracy required.
Angle Cutting Machine have High Efficiency & Precision
The angle cutting machine is an advanced tool with high efficiency and high precision. It can saw a wide range of metal door frames. Its accurate angle and smooth section can cut a wide range of materials without secondary processing. Its intelligent control panel and infrared alignment provide high positioning precision. The cutting speed of this machine is fast and smooth, and it can be operated on both sides. It is very easy to operate, and its humanized interface provides easy operation.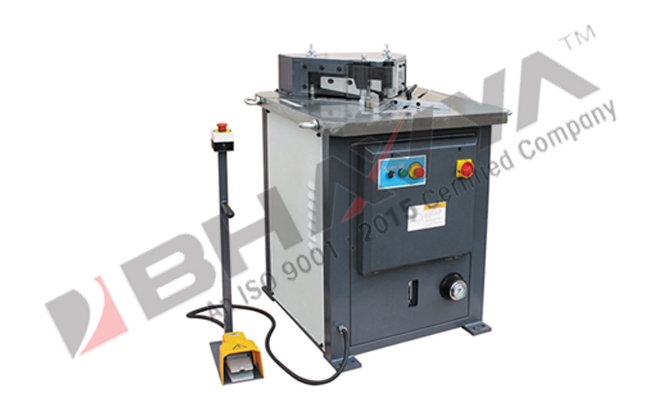 Angle Cutting Machine is Cost-Effective
Angle grinders are a great choice for cutting angles in large materials such as steel. The angle-cutting wheels of an angle grinder are all made of grit, and the cutting mechanism is similar to that of a saw. These grinding wheels act as miniature teeth, removing a small piece of material. Because an angle grinder's cutting mechanism is faster than a circular saw's, it can remove a large amount of material quickly.
The Bottom Line
Angle cutting machines have a robust design that includes innovative construction tables and a lasting, solid body. The machine's upper section allows for exact adjustment of the corner's angle and thickness. With the aid of the features installed on the worktable, the necessary cutting angle may be rapidly and accurately changed. Depending on the material's kind and thickness, this equipment offers repeatable, exact cutting.