There are several things you should know before purchasing a Hydraulic Press Brake. This article explains some of the key features of these machines and their benefits. In addition, this article will explain how deflection compensation works, Adjustable gauge, and Automatic bending process. Finally, we will discuss the tooling options. Hopefully, this article has provided you with the information you need to make the right purchase. The next article in this series will cover the deflection compensation system and the many other features that you should look for when purchasing a hydraulic press brake.
Manual Back Gauge in Hydraulic Press Brake
One of the most crucial components of hydraulic press brakes is the Manual back gauge. This component allows you to set the angle of the press brake at each position. This is especially helpful when you are forming intricate parts. The adjustability of this device can reduce the labor intensity and production time. Moreover, it improves the quality of products. Choosing the right back gauge is essential to achieving the desired result. In this article, we will discuss some of the benefits of this device.
It features independent control circuit, servo valve, and filling valve. It is suitable for small batch production and produces a wide range of parts. It can also be customized. Different manufacturers design wiring diagrams differently, so you may need to consult manuals to find the proper one.
Automatic Bending Process by Hydraulic Press Brake
An automated bending workspace is a highly efficient solution for larger production volumes. However, small production batches can benefit from separate modules. Some production modules even integrate automated material warehousing and packaging solutions. Here are some advantages of an automated workplace. You can choose the best option according to your business requirements.
The basic requirements of hydraulic press brakes are defined by the size and type of material to be bent. Typically, materials are not more than 50mm thick. These materials require large amounts of bending force. Common press brakes can produce up to 400t, 300t, 160t, and 80t of force.
Tooling Options in Hydraulic Press Brake Machine
A good dealer will provide the minimum safety equipment, such as a safety guard. Aside from safety equipment, you should also look at automation and user-friendliness when considering your press brake tooling options. You may also want to look for a press brake with a more advanced CNC or NC control system.
Among the different types of hydraulic press brake tooling, you'll find a variety of options for bending metal. A Rocker die creates a "V"-shape bend, while a Gooseneck die clears the rim. An Acute-Angle Die creates different angles. If you're unsure which tooling option is right for you, look for a tooling option that provides adjustable angles, as well as one with a variable-angle feature.
Safety Precautions in Hydraulic Press Brake
There are several safety precautions to take when operating a hydraulic press brake. First, make sure there is no access to the back of the press brake. This is because it can be dangerous to reach the dies through the back. Depending on the local OSHA interpretation, back safety may require a warning barrier with pictograms. If the back is accessible, a full perimeter guard may be required. Using proper safety measures while operating a hydraulic press brake will minimize injury.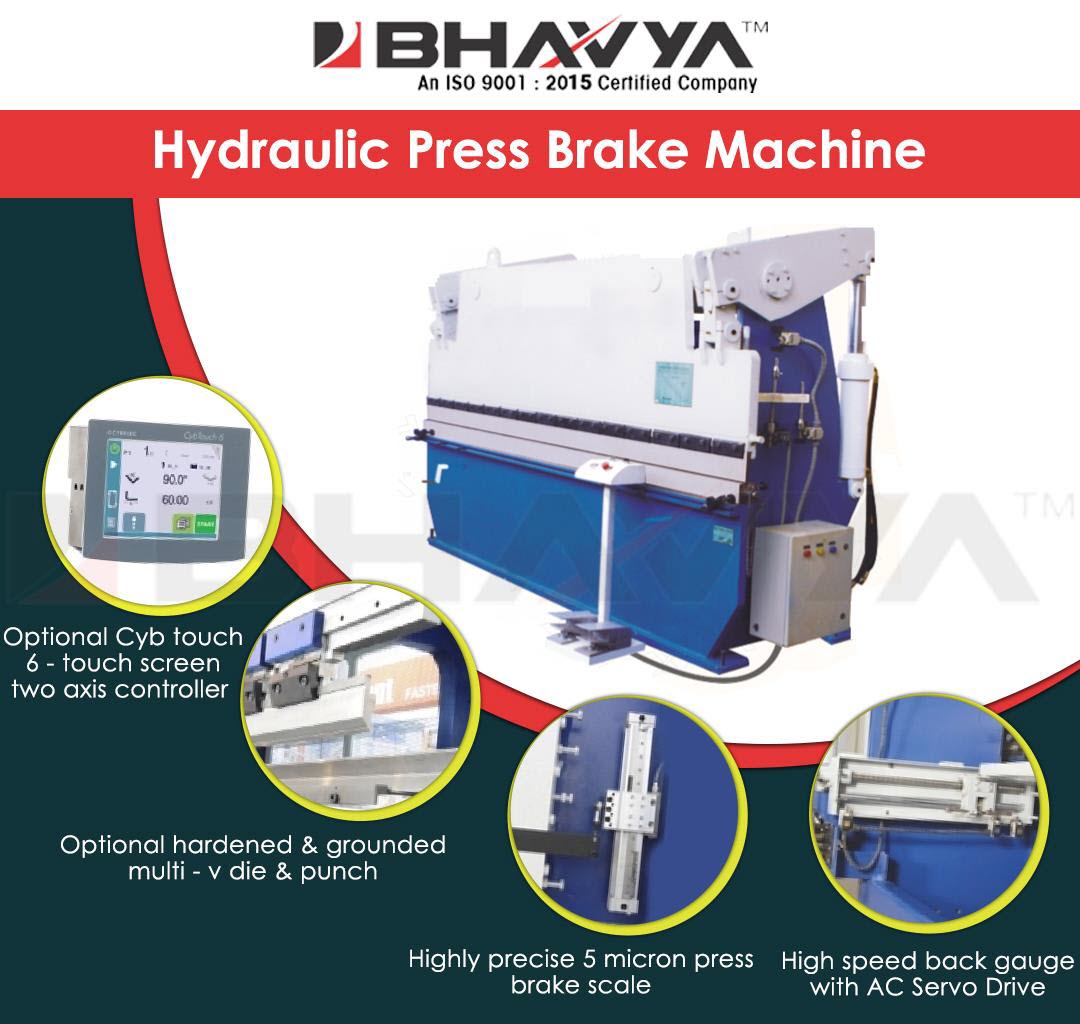 Second, make sure that the operator understands all safety procedures before beginning work. First, know where the emergency stop buttons are located. Make sure to use them when necessary. Third, keep your hands out of the way of the press. And last, make sure that the floor around the press is clean. A clean workstation means a safe working environment. Avoid spills of oil, which can cause serious injury.
The Bottom Line
Press brakes are a need in the sheet metal industry because they make it simple to bend metals into a diverse range of sizes and shapes. Instead of using mechanical pressure to force the ram downward, hydraulic press brakes employ hydraulic pressure. Since they can contain numerous cylinders, the bend can be controlled more precisely by the operator. This produces a bending that is extremely accurate and adaptable.