These days, various types of press brakes are available in the market, including mechanical and hydraulic. The main differences between a mechanical and a hydraulic is as follows.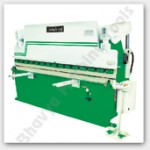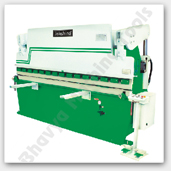 Hydraulic press brakes are simple to use and versatile for punching and forming sheet metal components.  Even the tooling is easy for a hydraulic press and the material handling cost is also less. Stamping can also be done using economical tools on the same hydraulic press.
Mechanical presses use expensive dies and costly components, hence hydraulic presses are better. One more advantage of using a it is that they can be set up quickly, because they do not involve many other forming functions. It also reduces secondary forming operations such as moving the components to another machine. Hence, the hydraulic press is preferred since the tooling and set up time is less as compared to the mechanical press. Moreover, a hydraulic is a highly flexible punching, forming and stamping equipment. It can even punch and form in upwards as well as downwards directions. They also help to save manufacturing time of sheet metal parts.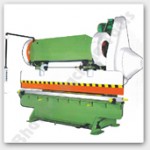 The hydroforming operation is not possible on a mechanical press brake, because it does not have the speed control and cannot remain on the bottom for carrying out the high pressure forming operations. The slow speed of the hydraulic helps in the hydroforming process, in comparison with the mechanical. A hydraulic press brake provides dwelling and ram speed control which is not possible in mechanical. The hydraulic presses can be programmed to control the ram speed and ram position, whereas this facility is unavailable in mechanical presses.
Further, hydraulic press have exceptional speed, stroke and force; and have therefore increased the forming capacity of sheet metal industry. They can offer full force at any stroke position and also provide flexibility in the dies. The ram stroke can be easily adjusted from minimum to maximum position. Hence, a hydraulic press can have longer strokes to include different types of dies; and can be easily set for various operations. The major benefits of these hydraulic presses include the following.
They are multi-purpose machines, and are adaptable for diverse operations; deliver better force at any point of stroke; and are capable to function at various strokes on the same machine. The ram stroke can be simply adjusted throughout the length. Also the required speeds can be set and also easily reset at any position. It is possible to program and have total control over the ram stroke and position. A variety of operations can be performed at different pressures just by adjusting the command, pressure switch settings, or pressure control valve of the machine.
Ultimately, hydraulic press brakes deliver precise and high quality products. Hence, compared to mechanical press brakes, the hydraulic are much better. Therefore a wide range of operations are now done using hydraulic presses in various industries throughout the world.