The most important tools required in any workshop, nowadays are described below.
Milling Machines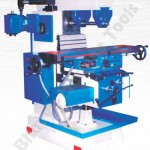 The milling machine is used for milling, cutting, shaping, carving, planing, contouring, drilling, stamping, and die-sinking a variety of solid materials. The work piece is positioned, to cut and shape the metal object on its tip, and from all the sides. There are two kinds of milling tools; depending on the direction of the main spindle; namely the vertical milling and the horizontal milling. They are further classified as manually operated milling, mechanically automated milling and electronically controlled CNC milling. Milling machines are designed to perform simple and complex machining operations.
Uses of Grinding Machine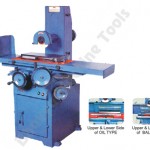 The grinding machine is utilized for grinding a metal workpiece into required shapes and sizes; with the help of an abrasive wheel. The abrasive wheel perfectly chips the rough metal surfaces into smooth metal objects. Grinding is basically a finishing process that produces workpieces with minimum surface roughness and maximum surface smoothness. Normally grinders remove very less metal; however some grinding operations involve rapid removal of large quantities of metal. Both manual grinding and hydraulic grinding deliver highly precise workpieces.
Applications of Shaping Machine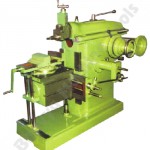 A shaping machine is used to cut small or large work pieces made from wood, steel, aluminum, ferrous and non-ferrous metals etc. into various shapes, angles, and curves. This shaper is smaller than a planer, and has a cutting movement like a lathe. The single point cutter has a linear motion and usually moves over the stationary work piece, instead of the work piece moving under the cutter. Both conventional and modern metal shaping tools are widely utilized to quickly and easily shape flat and straight metal surfaces.
Slotting Machine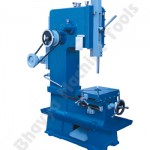 A slotting machine is another essential tool that is widely used for shaping or cutting a variety of wooden and metal objects. It is also known as a slotter or a vertical shaper. They are commonly utilized for making slots on the heads of metal screws and bolts, wooden screws, etc.
Bandsaw Machine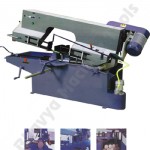 The bandsaw machine is utilized for cutting long pieces of wood or metal into a variety of odd or curved shapes. It consists of a long horizontal metal band and a blade with sharp teeth on one side to cut the work piece. The band moves on two wheels that rotate in the same plane, in order to precisely cut different types of objects. These are mostly used for woodworking, metalworking; and for cutting different materials into straight, asymmetrical and curved shapes. The horizontal bandsaw and the double column bandsaw are the two kinds of bandsaws.
Hacksaw Machine
A hacksaw machine is also a vital tool that is used for cutting wood, metal, plastic and numerous other materials. It has a fine-tooth saw with a blade that is held under tension by a screw or other mechanism. The blade is made from high grade steel and its thickness depends on the material to be cut. Some hacksaw also have a coolant pump to avoid the saw blade from overheating.