When selecting an NC bending machine, you will want to consider the price, specifications, features and functionality of each one. In this article, we'll look at what to look for, as well as the pros and cons of each machine. Once you know what to look for, you can narrow down the choices to the best one for your needs. Read on to learn about some of the benefits of NC bending machines. And don't forget to read our buying guide for more information.
Features of NC Bending Machines
An NC bending machine combines multiple functions, energy-saving features, and advanced design features. Depending on the model, it can be used for bending pipe sizes. Its easy operation and movement make it ideal for quick installation and efficient processing. A CNC bending machine can be programmable and can produce complex shapes without the use of a reference part. It also features a safe control system that ensures consistent bending quality even when the machine is unused.
During the operation, all personnel should be commanded by a person who knows the basic functions of a CNC bending machine. The main operator must be able to control the foot switch to control the operation. The pressure should not be too high when bending a large part. The bending pressure should not exceed half of its maximum value during an eccentric load. It should also be equipped with an emergency stop button. These are only some of the advantages of an NC bending machine.
NC Bending Machines Functions
An NC bending machine is a type of CNC bending machine. These machines can perform various bending operations on metal sheets, including forming rounded corners and bending sheet metal at varying angles. These machines are widely used in the automotive, aircraft, light industry, and container manufacturing industries. They are equipped with high-definition LCD screens and user-friendly interfaces.
CNC bending machines are controlled by a specialized computer. Its software can automatically calculate the pressure required for the cylinder, which is a vital part of the bending process. It is also possible to connect this type of machine to an external workstation. Many CNC bending machines also have a punching machine that produces holes in the bending parts before they are shaped.
As the technology advanced, NC bending machines could control and automate more functions. Users could develop the system software for CNC bending machines, and the machine's scope of applications was no longer limited to the manufacturers' standards. The latest generation of CNC bending machines also adopted a modular design to meet the needs of various users. These machines could be programmed to change the bending time of individual parts.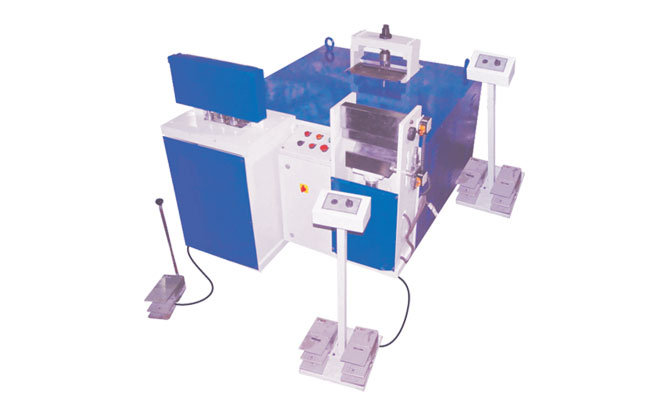 Specifications of NC Bending Machines
When considering the NC bending machine, you should be aware of its specifications. Its basic features include micro-adjustment for pressure die, ball mandrel protection, and programmable time for bending movement. This bending machine is an excellent semi-automatic solution for various types of bending applications. Its programmability is another plus point.
Features of the machine: It can be operated with an integrated circuit and solenoid valve. Its software can automatically detect malfunctioning points and correct them. It is also equipped with a three-step hydraulic oil flow to prevent the deterioration of the oil. It also has a manual hydraulic adjusting valve for large tube bending. It can be programmed to work multiple bending sequences. Its automation makes it a highly versatile machine that is capable of bending different materials, such as heat exchangers.
NC Bending Machine Price
The tube bender offers maximum flexibility and can produce large outside diameter and heavy-wall bends. It is a high-end machine used in industries such as turbines, bellows, and turbo pipes. Its flexibility and quality large-bending capabilities reduce the need to rely on outside suppliers and boost profit margins. These machines are also popular in the mining and agricultural industries. However, there are a few important factors to consider before purchasing an NC bending machine.
First, the computer numerical control system is much easier to use. The operating system is user-friendly, and the user can quickly learn how to use it. Operators must be knowledgeable about every function of the machine and operate it precisely. NC bending machines come with advanced storage features that allow users to store multiple programs. The larger the system's storage capacity, the better.
Installation of NC Bending Machines
The main functions of an NC bending machine are pipe bending, slitting, forming, and repairing. Moreover, these machines are widely used in many industries, such as electric power, highway and railway construction, boilers, ships, and other pipe-related projects. The advantages of CNC pipe bending machines are, multiple functions, reasonable structures, easy operation, and smooth movement. Moreover, these machines can be easily and quickly installed.
A CNC bending machine has numerous advantages, such as the ability to make adjustments automatically, easy program modification, and high efficiency. Its hydraulic system consists of a ram, an oil cylinder, and a mechanical stop fine-tuning structure. It is equipped with a numerical control system that figures out the required crowning force during the bending process. The CNC system enables the machine to process parts according to drawings and specifications.
The Bottom Line
Bhavya Machine Tools offers CNC bending machines that are known throughout the world. The most important feature of an NC bending machine is its ability to automatically measure the unfolded size of the workpiece. This allows it to meet the design requirements for accuracy. A CNC bending machine can also be equipped with a punching machine, which can be used to cut holes before bending. This helps improve the bending process and overall production efficiency. Further, an NC bending machine can be connected to an external workstation for processing.