The electric tapping machine is a very useful machine that is used for threading holes in steel items. Its working capacity and precision are highly recommended by engineers. Moreover, this machine is very efficient and time-saving. It is also suitable for threading holes in the motor body. So, if you need to tap a motor body, then the electric tapping machine is the best option.
Salient Features of Electric Tapping Machine
The Electric Tapping machine is a versatile tool. With a multi-directional head, it can thread in any position. Its clamshell installation is dustproof and collision-resistant. The machine offers multiple functions, including automatic depth control and multiple tapping applications. It can also be used with optional accessories.
The electric tapping machine is designed to drill and tap large holes. It features a servo motor for variable speed. It can drill and tap any size hole. Its servo motors have an adjustable speed range and allow for tapping capacities The compact electric tapping machine can drill, tap, and thread a variety of materials. It features an articulated arm and an integrated control unit. Its variable speed range helps adjust rotation speed according to the diameter of the hole.
It also offers a wide range of applications, including tapping metal and plastic. Its automatic depth control allows the user to set the exact depth of tapping. Its arm is easy to move. The servo motor ensures high torque and fast rotation. The safety features setting prevent tap breakage. The machine also features a control panel mounted on the lower arm, where you can view all the relevant tap parameters.
Working & Application of Electric Tapping Machine
Electric tapping machine is a powerful tool that can be used to drill holes in different materials, such as metal, wood, and plastic. Electric tapping machine uses a servo motor to provide precise energy delivery, which ensures that the workpiece does not move during the process. It has a display screen for precise depth control, speed, and positioning. It comes with a safety tap collet and torque overload protection. A larger motor supplies the power to complete the tapping strokes. The tapping head is attached to the mounting table with a magnetic lifting chuck. The motor also controls the arm movement. The arm can be changed to different types of tapping heads.
Electric tapping machine can also be used in the automobile industry. The taps can be made on the outside as well as inside of metal elements. The nut thread in the wheel is based on the thread in the rim, which is made by using the same type of tapping. The tapping machine is used for a wide variety of other applications. For example, in the automobile industry, the tapping machine is used to make threads on wheels and rims. The size of the hole that needs to be drilled will determine the length of tapping strokes required for the job.
Servo Motor in Electric Tapping Machine
Servo motor is a kind of electric motor that can be used in an electric tapping machine to increase the productivity and speed of the machine. It is a kind of motor that can deliver energy precisely. A high-quality servo motor requires 440V of electric power. It can deliver energy to the working area with a low consumption.
It is an excellent tool that makes the work of tapping very easy. It can be operated by batteries or a direct source of electricity. The machine can also be customized and self-made, depending on the application. The servo motor makes it possible to make precise and accurate holes without much effort. The servo motor also provides insight force assurance and makes the operation of the machine easy.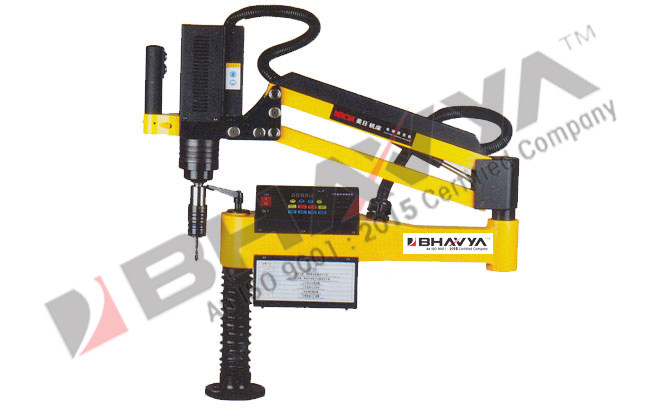 Its high speed makes it possible to tap the steel item very quickly without damaging the natural surface of the material. It is also very precise when it comes to threading holes. Moreover, its rigid tap head does not break when it comes in contact with a rigid metal. As long as it is set at the right speed, it will ensure that the product is properly threaded.
Magnetic Lifting Chuck for Electric Tapping Machine
Magnetic lifting chuck for electric tapping machine is an electric tapping machine accessory that holds the workpiece and holds it in an upright position. This tool reduces machine setup time and the process of setting up the machine. It also helps to protect the workpiece from damage. Its magnetic force can also help to provide a tighter grip on the workpiece. In some cases, the clamping force can be as much as 12 tons per square foot. This is equivalent to 10886 kilograms per 0.093 m2. Its strong holding force is useful for heavy stock removal.
Another important feature of this tapping machine accessory is its compact structure. The chucks are easy to use and are easy to maintain. The magnetic chucks have a low energy consumption and are safe to operate in the field. They also have a high safety coefficient. In addition, they are maintenance-free and have a long service life.
The Bottom Line
Compared to the traditional pneumatic tapping machine, the Electric Tapping Machine is more efficient. It can tap through holes and blind holes. It also features automatic depth and tapping counter functions and intelligent torque protection. Its durable, repeatable design makes it a great choice for a variety of general manufacturing applications.