Threading machines are tools that are used to cut and form threads, inside or outside a cone or a cylinder. Threading Machines are working towards the highest productivity and optimum performance even under the most extreme conditions, to provide the best of service with the least cost for maintenance. There are various types of threading machines available, and all are specifically designed and manufactured for different purposes. Here two types of threading machines have been mentioned. And all the information needed about them is provided below.
Bolt Threading Machine
A Bolt Threading Machine is designed to create external threads on product based on the "chasing method" to execute this job of threading the bolts, as cutters HSS Bolt Threading Tangential Chasers are used.
The product remains anchored, while the head of the die keeps turning to create neat and clean threads. The Bolt Threading Machine can create a wide variety of threads like MATRIX, NPT, BSPT, UNC, BSW, BSP, Acme, and UNF threads, chasers determine the type of threading that can be created. These machines consist of the following components.
Head Stock
Saddle
Base
Die head
Bed or Pillar
Clamping Vice
Pillar bed– Chrome-plated pillars are used. To operate and assist carriage chrome-plated pillars are used. Safeguards provided in the carriage, avoid any harm to the surface.
Headstock– It provides stiffness and alignment to the carriage. Durability is increased by using a heated alloy of steel to make shafts and headstock is made from pure and prune alloy of steel.
Saddle– For the smooth and precise running of equipment, it is fitted on two pillars and runs on in alignment with the headstock.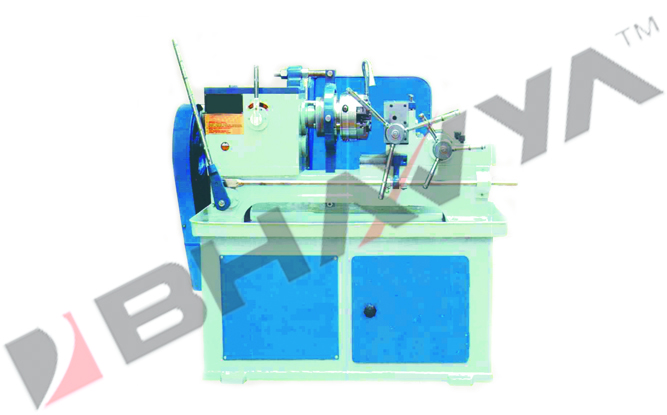 Features of Bolt Threading Machine
It provides High efficiency and High speed.
Very robust and durable construction.
It is used for temperature controlling rolling.
Die head can spin in both reverse and forward directions.
During the threading process, bolts and die get oiled automatically.
Easily changeable die head.
After the length of the thread is set, the die head opens automatically.
Hydraulic Thread and Form Rolling Machine
Hydraulic thread and form rolling machines are constructed to produce small and large bundles of different types of thread, which are cold-formed in the most reasonable way.
Salient Features of Hydraulic Thread and Form Rolling Machine
It has a Compact Design.
The steel structure is properly fabricated.
Highly flexible and resourceful.
Setup and controls are user-friendly setups.
Very suitable for mass-producing of products.
For better cooling, giant coolant tanks are used.
Can work on different rolling speeds.
Centralized lubrication of important moving parts.
Knurl, worms, serration, and pitch threads can be formed because of their high rigidity and strength.
Easy and simple control and operation.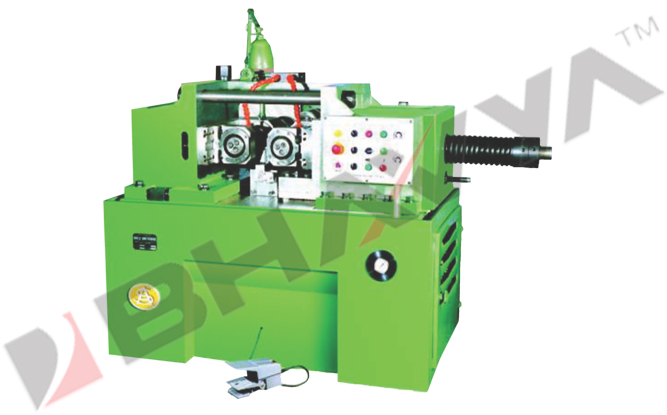 Two types of Hydraulic Thread and Form Rolling Machines
(a) Hydraulic Thread and Form Rolling Machines (Two Roll Type)
Deep threads, serration, knurls, and worms can be formed. It permits production in large amounts.
(b) Hydraulic Thread and Form Rolling Machines (Three Roll Type)
As the support blades are removed soft profiles, and a better finish to the product is provided. It is suitable for doing lapping work, rolling pins, and threading with mass production and precision.
The products manufactured from these machineries are flawless and of very high quality. These are sophisticated pieces of machinery that are made based on industrial standards and provide their products according to the requirements and demands of their client.