Modern Construction Industry and Construction Equipments
Construction process includes variety of activities hence, time consumption is quite long. To make the work proceed faster unlike conventional activities, several friendly equipments have been introduced by machinery industries.
The Advent of Concrete Mixer
Concrete Mixer is applied to prepare concrete mix and it is equipped with a revolving barrel and motor to activate the mechanism. The ingredients are dumped into that barrel and the equipment rotates the barrel to complete the mixing action. This is available either as transferable and stationery model and found to be of greatest use for fast works.
Benefits of Concrete Mixer
The cement mixing device can mix different ingredients and stays helpful in delivering ready mix to make the building process relatively quick. The motor turns the barrel's position and once the barrel completes the mixing action it is shifted to tilting position to pour out the ready mix.
Building Equipments for Moderate Construction Projects

Concrete Mixer is available in portable form with manual and motor operated options. We supplies concrete blending equipment hopper with and concrete mixer without hopper, 10/7cft concrete with hydraulic type mixer, slab trolley with rails, etc. Investors have multiple options to select the mixer based on mechanism.
Weight Batcher from Bhavya Machine Tools
Weight batcher is an interesting component that can be equipped with concrete mixing equipment for moderate to large construction projects. It stays very effective to obtain the right amount of ready mix concrete in terms of weighing process and we offer weight batcher with double hoppers.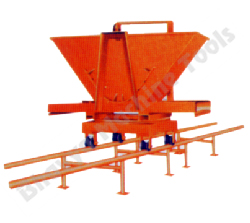 Weight Batcher from Bhavya Machine Tools–A Perfect Solution to Avoid Material Wastage
Weight batcher supplied by us can hold the capacity of up to 250 kg is used to get the desired amount of ready mix and this method will certainly avoid excess mix to get dried. Hence, chances of wastage are meagre while investing for weight batcher.
Half Bag Concrete Mixer
Half bag concrete mixer stays convenient to obtain concrete mix with good uniformity. These are equipped with loader bucket which has the capacity to make the mixing process in an effective way.
Growing popularity for Construction Machines
Since, the impact of infrastructure development is felt seriously from global perspective; the demand for smart and friendly equipments is increasing everywhere. Similarly, these tools are also preferred because working with these machineries reduces the cost considerably.
Nuances in choosing suitable construction device
It is very important to consider the project level and the respective requirement. Bhavya Machine Tools is a right place to find equipments for smaller to moderate projects and they supply by evaluating the speed required.  For more information, visit – https://www.bhavyamachinetools.com/products/
Conclusion
We offers equipments for wide range of industries. As far as machines are concerned, investors can find variable options to manage moderate to large construction works and instruments supplied by them are made of high quality materials and stays reliable for long term usability.