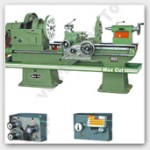 Higher production requirements of the industries are compelling the industrialists to update their manufacturing equipment with latest technology which gives higher and also faster production rates. Team at Bhavya have very well understood this requirement of industrialists of the new era and therefore are constantly striving hard to offer efficient models of tools which can give efficient production while helping them to meet their bulk production requirements in lesser time with less labor. The customized tools offered by Bhavya are flawlessly designed taking into consideration the parameters which work best for their clients to meet their custom requirements depending on their infrastructure and production needs at their industries.
The modern industrialists want machineries for reliable, safe, easy and durable operations. As the cost of labor is going up, they now require equipment with more automatic features so that their production requirements can be met with lesser efforts and labor required. The managers at Bhavya work to satisfy this requirement of the modern industrialists. They thrive to provide tools which can operate automatically with lesser labor or efforts required while giving the users convenience of use with higher production rates. One such example of the latest technology offered by Bhavya is a V belt driven shaping machine offered by it. This is a high-end tool designed for best resistance to corrosion with a superior grade and well ribbed cast iron material built structure. It is a multitasking developed for cutting steel, aluminum, ferrous and non-ferrous metals in different curves, angles and shapes. This energy efficient machine tool can be easily installed, operated and maintained by the industrialists at lesser operating and maintenance costs.
Various other examples of high-end machineries offered by the firm include CNC lathe, drilling cum milling, the modern tool room, C-type power press,  capstan lathe, tool & cutter grinding and many other forms of equipment which are successfully being  used in industries across the country. For further details visit http://www.bhavyamachinetools.com.
About Bhavya Machine Tools
Bhavya Machine Tools is an ISO 9001:2008 certified tools manufacturing company in India. The company specializes in supplying lathe, drilling, V belt driven shaping, shearing, pillar and C type power press and machines for tool room, construction, metal and wood working industries. For further details please contact us at +91-79-4024 2800, +91 – 79 – 3007 4560 or visit our office located at
A-601, 6th Floor, Sapath-4, Opp. Karnavati Club,
S.G. Highway Road, Satellite,
Ahmedabad-380 051,
Gujarat. (India).