The Purpose of Press Brake
A press brake is workshop equipment that is mainly used for bending metals and metal sheets. Wherein, it can be done either in V shape or U shape in accordance with the industrial requirement.  It consists of two C frames fixed in the sides of the machine, which is then fixed over a movable upper beam. The speed of the upper beam increases when the process of bending is tuned to work fast if there are more requirements for production. The whole unit is mounted on a table hence, this equipments like a press brake is a space saving option too. In addition, press equipment is mostly preferred to obtain precision in the process. The precision is expected in terms of angle finalization, finishing, accuracy in measurement, etc. It is possible to obtain it for a range of metals such as aluminum, brass, and cold rolled carbon steel, hot steel, stainless steel, wood, etc.
Applications of Press Brake in Workshops and industries
Press brakes for metal sheet are used mostly in machining industries. The applications also vary according to the production demands. The shape variations can be adjusted with the help of selecting the type of die. Hence, these are found to be most suitable equipment. Selecting the right die design will get your requirement done with precision. There are different types of die designs available which can be applied in accordance with the predetermined angle bend.
The process of metal bending and sheet bending with press brake
The process of these works with the support of punch angle and punch tip which are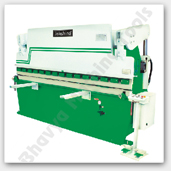 called the top and bottom tool respectively. The bottom tool contains a V shape open on which the pressing force works to get the desired shape and angle. The bending on the other hand is done in different types such as
Mechanical Press brake–works with an electric motor. In which only the bending radii contact with each other. It is a universal application.
Pneumatic press brake– Works with air pressure
Hydraulic press brake-Works with hydraulic cylinders
Servo-electrical press brake-Works with servo-electrical motor
Different types of sheet metal bending with Press Brake
There are different types of process that can be achieved through it. This can be done by selecting the type of die to be installed in the sheet bending machine. The die on the other hand is usually installed in the bottom part of the brake and some of the popular die designs are
V –dies-
Rotary bending dies
U-bend dies
90 degree dies
Acute angle dies, etc
It is quiet difficult to manage with bottoming. However, for greater precision and more production preferring the right type of die will give better results. Click here to know more about Press Brake.
Conclusion
Different types of sheet metal bending such as radius bend, open hat channel bend, double form bend, offset bend, V Bottom bend, etc can be achieved by selecting suitable dies. This will help for better productivity also.