Power Press
"Power press" means a press or press brake for the working of metal by means of tools, or for die proving, which is power driven and which embodies a flywheel and clutch. Pillar type is highly precised combined with accuracy and most suitable design for various tough jobs. The primary function of the said type of power press is to resist the forces created during operation and maintenance of proper die alignment. Pillar type has fast speed and low noise for maximum output. This pillar type and C type available in different models based on crank shaft diameter, stroke adjustment, hole in ram, hole in bed, dist. bed to ram, stroke per minute and many other factors. C type's is best suitable for Engineering, automobile, electrical, agriculture, bicycle industry etc for trimming, straightening, pressing, assembling and disassembling of various components. Industrial Hydraulic owing the features like robust construction, energy efficient and durable, which is used for extensive hydraulic applications in various industries.
Power Press Safeguards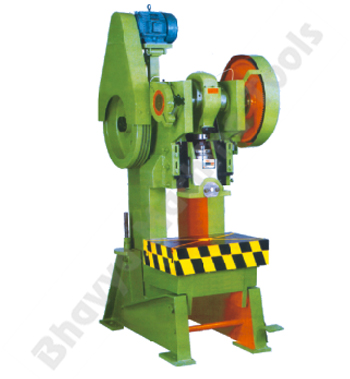 It is designed in size by the force which can be generated from 5 ton to 250 ton capacity. Due to heavy pressure, it requires to have safe operation with active safeguards, automation and reliability of the control system, the tooling condition with feed mechanism and work area for power press. Training, awareness and strict observation, safe work practice is must to operate the machine securely. The operating controls like mode selector, palm buttons, top stop, foot switch and emergency stop etc should be in good working condition. The guard or safety controls must positively prevent body access into the danger zone. The sides and back of the machine should be guarded or placed in such a manner that nobody should be injured by any part of the machine. Check well before operating that safety controls are working well. Die area must be cleaned without any slugs or debris while operating. The press guard must be designed in such a way to place parts into the die easily. It operation needs skilled, experienced and well trained operator.
Power Press Check List for Safety Measures
Every operator must check well before starting his work and should confirm his check list for safety measures like nothing should be placed scattered on the machine like turnover bar, die block on the power press. The operator must know the maximum thickness or gauze and type of metal which the tooling can safely run. There should not be any vibration or squealing, shuttering, clicking, clanking from the machine. Die stripper, take-up reel should work properly during operation. Die should not bind or jam due to the tooling, the press or due to the stock. Always use proper protection for eye, face and body during press brake operation. One must thoroughly go through the manufacturer's instructions manual before starting the operation on power press machine and if found any malfunctioning or improper working of the machine, one must stop the machine and contact the seniors and manufacturer for maintenance.