A milling machine is a tool extensively used by metal industry because of its versatile, multi-purpose and advantageous capability to work with pieces of metal. The key feature of a milling machine is the cutter which susceptible to desired speeds and cutting the metals out into precise shapes. These cutters are capable of collective functions altogether such as carving, threading, milling, drilling, and cutting; including complicated operations like a straddle, milling, gang milling, indexing, etc.
Various types of milling machines are classified on the basis of varying functions, control, purpose, power, etc.
Universal Knee Type Milling Machine:
It is a high efficiency and large production friendly milling machine which has a large assortment of speeds and feeds. The tools made from high speed steel or a hard metal which enables them to carry out effective milling. It is specially designed for milling of flat or box-section workpieces.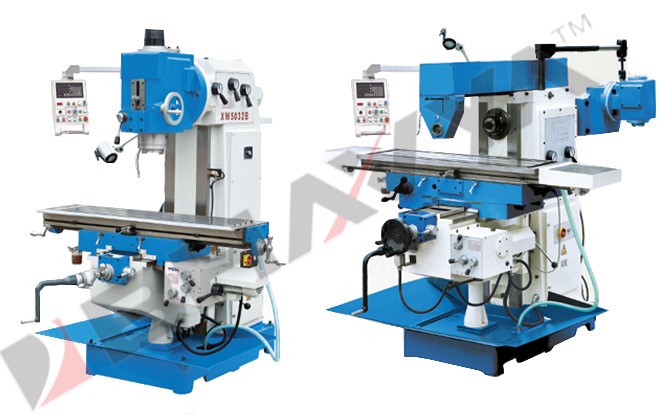 Turret Milling Machine:
Turret milling machine is quite flexible, versatile and can be repositioned. This makes it multi functionary and efficient in it approach for the milling of various parts of metals. A wide range of Turret Milling Machines available in the market, however, the large sized machines causes discomfort in handling of upward and downward movements of the machine.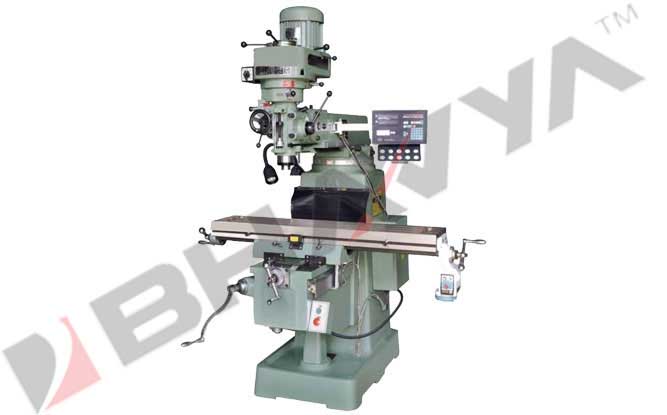 Ram Turret Milling:
As Ram Turret Milling machine can pivot, tilt and rotate by 360°,it is considered as a valuable milling machine according to the modern toolroom in the industries. Its features focus on safety, low cost maintenance and compatibility towards the user. The structure of ram-type milling machine is represented by the column supporting the movable housing has a spindle to help in the proper positioning.
Vertical knee type milling machine:
A vertical worktable resting on a saddle, which is adjustable by nature distinguishes this milling machine. The saddle is then supported by knee and hence it is characterised as knee type milling machine. The plain vertical milling machines have spindle mounted in a sliding head that can be fed up and down by hand or power. Although, modern vertical milling machines have the capability of being adjustable enough for the entire head to swivel so that it can work on angular surfaces.
M1TR Milling Machine:
This milling machine has stationary spindle and the table is moved in both perpendicular and parallel axis to accomplish cutting of the metal. Two methods of cutting in vertical direction can be accomplished by raising or lowering the quill and by moving the knee. This machine is extremely userfriendly due to its ease in tasks of changing the tools, spindle, positioning,etc.
Bed Type Milling Machine:
Their designs are very compatible towards the repetitive operations of milling. The sliding table is directly mounted on the massive bed of the machine which constricts its movement is the transverse direction. To deepen the cut, the spindle head is adjusted vertically. Because of its design,it is adjustable and withstand high amounts of load.
Horizontal Milling Machine:
The orientation of spindle in this type of milling machine is horizontal and not fixed which enables them to remove the atop material from the stationary workpiece. Shorter and thicker cutting tools available in the horizontal milling machines make them operative towards heavier and deeper cuts on the workpiece. However, these machines are specifically used when comparatively a larger amount of material has to be removed with less need for accuracy.
Column and Knee Type Milling Machine:
These are most common for shop work as it is efficient to work on small pieces. It has key parts like column, base, knee, saddle, table, spindle,etc. However, column happens to be the main supporting frame for the whole orientation of the machine which has gateways for the movement of the knee in the upward and downward direction. By giving the vertical movements, the knee provides the depth of the cuts which is adjustable.