Sheet metal machines are primarily utilized for cutting, shaping, pressing, and forming metal sheets into specific shapes and dimensions. Nowadays a number of sheet metal  are available in the market. The various kinds of tools used in workshops are as follows.
Power Press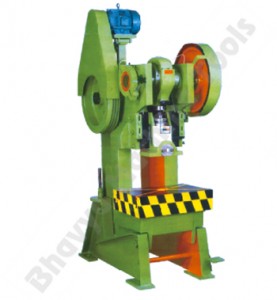 The power press is mainly used in several heavy duty industrial applications that require immense pressure for cutting, bending, pressing and forming sheet metals in various forms and sizes. They are basically categorized as C type power press and the pillar type power press. These exceptional and versatile sheet metal machines are used for a variety of metal working operations. The hydraulic power press uses hydraulic pressure and includes the latest electrical and mechanical parts.

Arbour Press
The arbour press is a small hand operated press tools utilized specially for precisely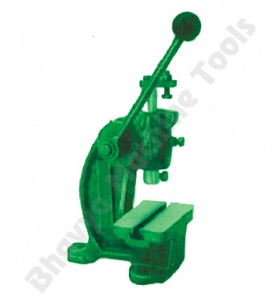 inserting and pressing small pieces of metal, and for riveting. This is widely used in automobile workshops, engineering units and other metal applications. The spring controlled arbour press involves automatic spring tension and adjustment to provide the necessary pressure on the workpiece. It is commonly used for light engineering jobs. The round can top and bottom seaming arbour press, is a unique unit that is used to seam the top and bottom of round tin containers. The foot press or pendulum arbour press is a foot operated machine which is generally used for cutting, punching and embossing tins, cards, mica board, plastic, etc.
Bending Roller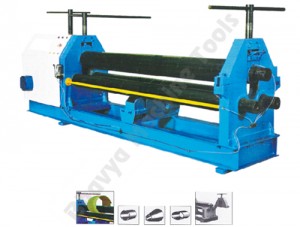 The bending roller is a sheet metal machine which is used to produce sheet metal bending rolls and standard parts such as top roll and bottom roll. These bending rollers are manufactured according to industry standard sizes as well as per the customer's requirements. They are available in a broad variety that includes mechanical plate bending, hydro-mechanical plate bending, plate rolling and pyramid type plate bending equipment.
Swaging Machine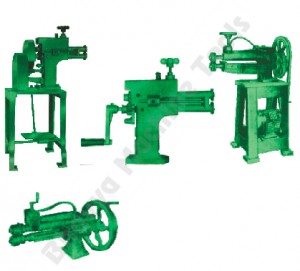 A swaging machine is utilized for modifying the dimensions of plain or cylindrical metal sheets. It is actually a hand operated mechanical tool that performs numerous forging operations on flat metal sheets as well as on cylindrical rods. The universal and deep throat swaging units are utilized for altering the shape and size of sheet metal as required. They are hand operated or mechanized and used in heavy metal industries. Other applications include swaging drums and containers such as water buckets. The jenny or burring device is used for machining tins and containers.  The main applications involve plating, edging and flanging the bottom and body of tins, as well as angular setting and double seaming. The roll type edge folding swaging device is utilized for tin edging, forming hooks on side seams and tin flanging. It is also used for making tin containers of various shapes and sizes.
Bending Machine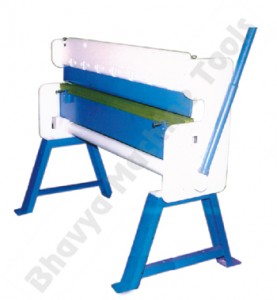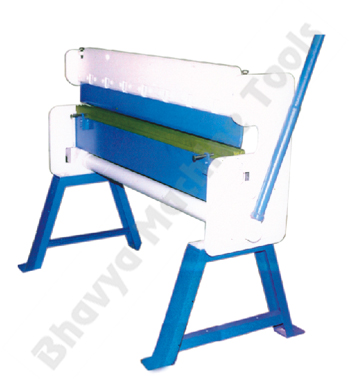 A wide range of bending equipments such as the hand operated trunk folding, the steel body fly press, and hand operated metal sheet bending, are used for bending metal bars, blades, handles, etc.