A power press is a machine that is used to cut or shape various types of materials, by compressing the work piece or by feeding the work piece into a cutting tool and applying the necessary pressure. They have diverse applications across numerous manufacturing industries such as metal, plastic, textiles, rubber, automobiles, plywood etc.
It is one of the most versatile sheet metal equipments that are widely used in many heavy industrial operations. They utilize a high amount of pressure to cut, bend, press and form the metal sheet in to different shapes and sizes. These robust and efficient power press are produced using top quality components in order to ensure maximum accuracy, consistency and longer working life.
Types of Power Press Machines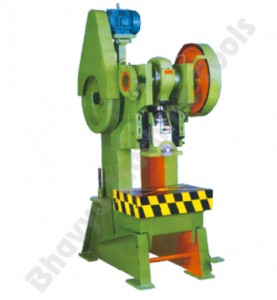 There are basically two types tools such as the C type power press machine and the pillar type; depending on the shape of their frame. These versatile industrial pressing tools are built to fulfill the bending, cutting and pressing operations of various manufacturing activities.
Nowadays several types of power presses are available such as mechanical, hydraulic, pneumatic and electric presses. A mechanical press is very fast and highly accurate device. It has a clutch that engages the flywheel to power a crank mechanism. Hydraulic presses function through two synchronized hydraulic cylinders on the frames that move the top beam. Pneumatic presses make use of air pressure to exert the required force and energy on the ram. Electric presses utilize a servo motor to move the belt drive or ball screw drive in order to apply pressure on the ram.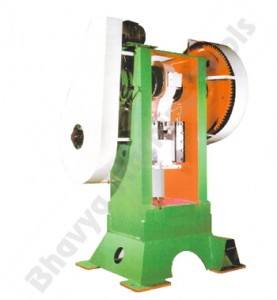 The pneumatic and electric power press machines are mostly used in applications that require less tonnage. These dependable and accurate hydraulic presses are utilized to manufacture high quality goods. They use lesser amount of energy and are much safer, compared to the flywheel-driven presses. The ram movement can be easily stopped at any time as a result of a safety mechanism.
These are rust-proof and low noise equipments that can be operated at high speeds to deliver maximum output. This multipurpose equipment is thoroughly tested to work under extreme conditions. Many different models of these sheet metal are readily available in a variety of dimensions at reasonable prices. They can also be used for many different forming jobs by using the appropriate die design.
The pillar type power press machine is also another versatile sheet metal machine.  It is built with two pillars and bed at the centre to exert a high amount of hydraulic or mechanical pressure so as to ensure tough metal bending. These unique tools are precise, reliable and corrosion resistant. They are mainly used for heavy duty metal cutting and bending applications.
The latest models of power press devices are computer-controlled. They have gauges and sensors that enable the operators to adjust the settings related to that manufacturing process. These modern power presses incorporate advanced technology to perform complicated sheet metal jobs quite easily at relatively low manufacturing cost in many industrial segments.